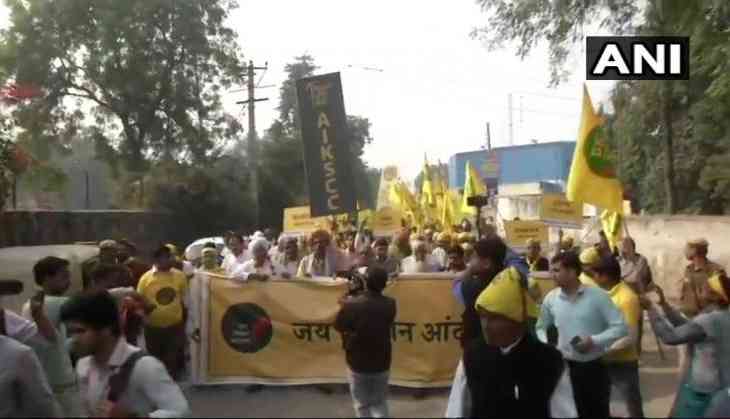 Around one lakh farmers have started a mega rally on Thursday as they have gathered from different parts of India to demand minimum support price and loan waiver.
The farmers are marching towards the Parliament with their demands and currently, are stationed near the Ramlila Maidan.
It is a two day Kisan Mukti March, organized by the All India Kisan Sangharsh Coordination Committee (AIKSCC) and the protest by the farmers is being led by Swaraj Abhiyan chief Yogendra Yadav and rural affairs journalist and activist P. Sainath.
Yogendra Yadav had earlier tweeted, "Women farmers greet us this morning from Brijwasan as they are all set to embark on Kisan Mukti March
Join us even if you are not a farmer. Join the hands that toil to feed us.
Jai Kisan!"
Communist Party of India (Marxist) leader Hannan Mollah, also the convener of the AIKSCC has said, "On November 30, the farmers will start their march from Ramlila ground to Parliament. At Parliament Street, farmer leaders will speak on agrarian issues and also leaders of different political parties barring the BJP will address the gathering," as reported by the NDTV.
The recent suicide rate of farmers which has grown over the period of years is a growing concern for Indian government and the sliding economy as the issues of agrarian crisis needs immediate intervention at the administrative and Parliament level.
Hannan later on added that, "The bills were prepared after a series of discussion on farmers issues during the Kisan Mukti Sansad, which was held in November last year."
Also read: Delhi: 55-year-old Delhi Police ACP allegedly commits suicide by jumping off the roof of Police Headquarters at
Delhi: Farmers who gathered at Bijwasan, on their way to Ramlila Maidan. Farmers have gathered at different locations in the city & will march to Ramlila Maidan. They are holding a 2-day protest from today over their demands, including debt relief & better MSP for crops pic.twitter.com/pmN38f26cV

— ANI (@ANI) November 29, 2018