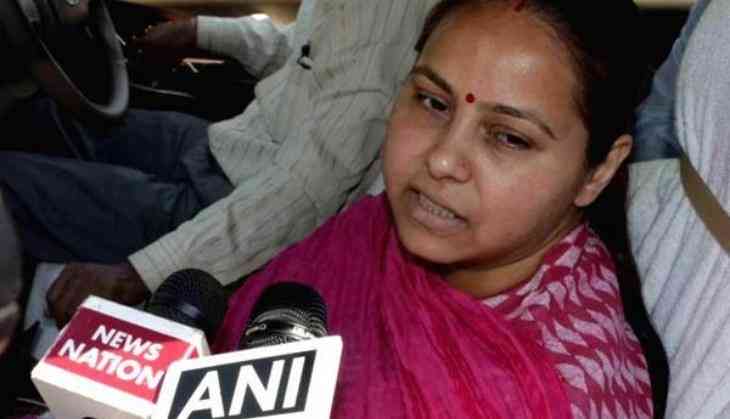 The Rashtriya Janta Dal (RJD) chief and former Bihar chief minister Lalu Prasad Yadav's daughter Misa Bharti and her husband Shailesh Kumar were granted bail by New Delhi's Patiala House court. After which Bharti blamed her husband and late Sandeep Sharma, who was CA of the company, for setting up fake firms to launder money.
The bail to the duo was granted upon furnishing a personal bond of Rs 2lakh each. The ED probes, Misa Bharti, an RJD MP in Rajya Sabha and her husband as part of the criminal investigation in an Rs 8,000 crore money laundering case by involving shell or fake firms and two Delhi-based businessmen, Surendra Jain and Virendra Jain. The Jain brothers were granted bail in January by the Delhi High Court.
According to the Enforcement Directorate (ED), Bharti and her husband had purchased a farmhouse in Delhi in the name of their company Mishail Packers and Printers. The ED said the purchase was made with Rs 1.2 crore that was laundered through shell companies during 2008-09. The ED, which has filed a charge sheet in the Special Central Bureau of Investigation (CBI) court in Delhi, charged the duo being a party and active in connection with concealing, possessing, acquiring and claiming the farmhouse as untainted property, thus being guilty of money-laundering.
In an interrogation by ED Bharti claimed her husband use to take charge of the day-to-day activities and the late Sandeep Sharma, use to maintain all financial records of their firm. She told the officials that Kumar and the late chartered accountant would be able to explain investments at a huge premium in 2008 in Mishail Packers and Printers Pvt Ltd from four companies at a premium of Rs 90 per share.
The ED had also raided the farmhouse and some other locations linked to Bharti and her husband and others who were involved in the matter, in July last year.
Also read: INX Media Case: Karti Chidambaram moves Supreme Court challenging ED dominion