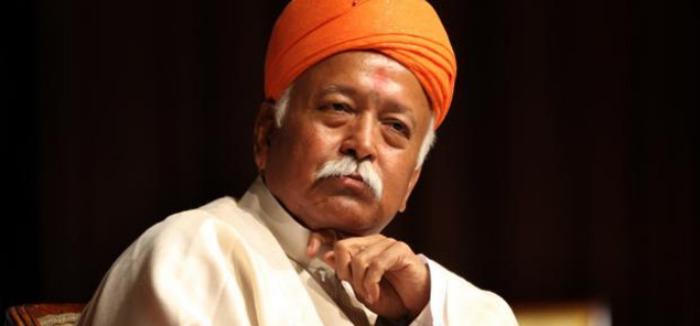 Rashtriya Swayamsevak Sangh cief Mohan Bhagwat, who stirred up a hornet's nest with his comments on reservation for backward classes and the need to review the policy, has spoken about the issue again.
This time, however, Bhagwat's views are markedly different from what he said the last time. Bhagwat made the following comments while delivering a lecture on 'social assimilation' in Nagpur on Wednesday evening:
"RSS is of the firm opinion that there is no question of scrapping the reservation system. Reservation in the country should continue as long as social discrimination prevails in the Indian society."
Earlier, in September, when the Hardik Patel-led Patidar agitation was at its peak, Bhagwat had spoken about the need to review the policy of reservation in India. He had then said:
"We believe, form a committee of people genuinely concerned for the interest of the whole nation and committed for social equality, including some representatives from the society, they should decide which categories require reservation and for how long."
Bhagwat's remarks on a review of the reservation policy just before the Bihar Assembly polls had stirred a controversy, with many seeing it as one of the main reasons for BJP's heavy losses in the state elections.
On 16 December however, the RSS chief sung an entirely different tune. He touched upon issues like discrimination and tradition, and made some important observations about 'social integration'.
Bhagwat said 'social assimilation' needs to first start with the indiviual, and only later extended to the family and society.
"This should be done by respecting the diversity in the society, but following the values and philosophy behind the spirit of Hinduism," he said.
Elaborating on the concept of 'social harmony and integrity', Bhagwat said, "No religion, sect, social reformer or saint supported discrimination between human beings. Equality has been the essence at the origin of every sect, which was later divided into castes and sects by us. Discrimination also was born out of behaviour of the people."
Bhagwat stressed on the need to end the discrimination and reject traditions that were redundant. "In the name of tradition, this discrimination should not be allowed to continue further. The feelings of those who have suffered for thousands of years, must be understood. Some sections of the society tolerated the discrimination and injustice for a long period," he opined.
"Now, we should also learn to understand and tolerate for some years and bring about the desired change by our own behaviour. Traditions should be tested on modern scientific parameters, and those which fail the tests must be rejected," he said.
The RSS chief said these traditions had not been tested for thousands of years and were being followed blindly, a trend that led to the deterioration of values. He also spoke about Babasaheb Bhimrao Ambedkar's thoughts on social discrimination and equality and appealed to the people to study his teachings.
With inputs from PTI