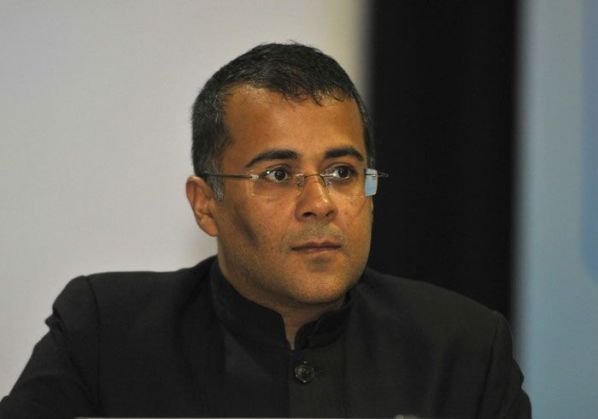 Author Chetan Bhagat, roundly criticised for poking fun at authors and historians who have spoken out against the government, said on Saturday that Prime Minister Narendra Modi would not have faced flak if he had been educated at an elite institution.
Bhagat also sought to trivialise the move by eminent figures in the artistic and scientific communities to return their government awards to protest against the growing intolerance in the country.
"Had Prime Minister Narendra Modi, BJP president Amit Shah and other leaders been to Doon School and had a foreign English accent, then these privileged class people would not have said anything against them," he said at a function ahead of next month's Indore Literature Festival.
"There are certainly some problems in the country. But there is no crisis-like situation which may force people to return government awards."
Doon School is a boys-only boarding school at Dehradun in Uttarakhand whose alumni have gone on to successful careers in fields as diverse as politics and acting.
Bhagat said he did not approve of the trend of returning awards. "There is complete freedom of speech and expression in India. Nobody has ever asked me to say or not say something. When someone returns an award this way, it gives an opportunity to foreign media to brand us as intolerant."
The 41-year-old writer, best known for novels such as "Five Point Someone" and "Two States", said such awards are given by the government, but by a jury.
"People living in big cities enjoyed a privileged position until 30 years ago. But for the current generation, passion, hard work and talent matter and the privileged classes are not able to come to terms with this change," he contended.
Bhagat, who is active on social media, further said that "even if these people return 500 awards, my five tweets are enough for them".
Answering a question from the audience, he said he would not join any political party as he did not want to lose his freedom of speech.
-PTI