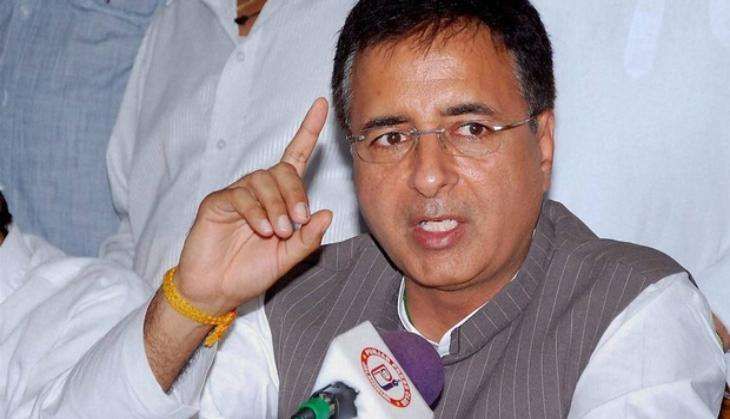 Dubbing Narendra Modi's statement at the Bharatiya Janata Party (BJP) core group meeting as 'one more act of political deception', the Congress Party on 24 August said the Prime Minister's promise of 'achche din' and characteristic 'jumla style' stands exposed before the nation.
"Prime Minister Narendra Modi's statement at the BJP core group meeting is one more act of political deception by a Prime Minister whose promise of 'Acche Din' and characteristic 'Jumla Style' stands exposed before the nation," Congress spokesperson Randeep Surjewala said.
Escalating his attack on the BJP, Surjewala said those who had made no sacrifice, nor participated, or had the intent to create the Indian nation state, can never be trusted as propagators or champions of nationalism.
"The Modi establishment has converted India into a nation state where liberal traditions are under serious assault and the mockery of law is rampant. We want to remind Narendra Modi ji that it was not nationalism that brought you to power. It was development, jobs, growth, good governance, promise of alleviating poor from poverty, eradicating inflation and bringing 'Acche Din' for all. The Prime Minister has conveniently forgotten it, but the people of India can see through his statement," he added.
The Congress spokesperson further said that the people of the nation will hold the Prime Minister accountable not just for his 'pseudo nationalism' but also for his fake and unfulfilled promises.
"Now, after two years, when inflation remains high, internal security compromised, foreign affairs directionless, unemployment rising manifold, economic growth stagnant and 15 lakhs in every account a forgotten Jumla, Prime Minister Modi is shifting the goal posts," he added.
Prime Minister Modi yesterday told 300 leaders of his party that they must focus on the message and agenda of nationalism which according to him was a key factor in his record-setting victory in the general elections two years ago.
He also told the BJP's top leaders from each state that they must urgently combat allegations of the party failing to stand for and protecting the weaker sections of society.
Prime Minister Modi said there should not be any spread of misinformation that 80 percent of the party workers are not from a privileged background, adding that when the BJP speaks of the poor and reaches out to them, the opponents get rattled.
-ANI