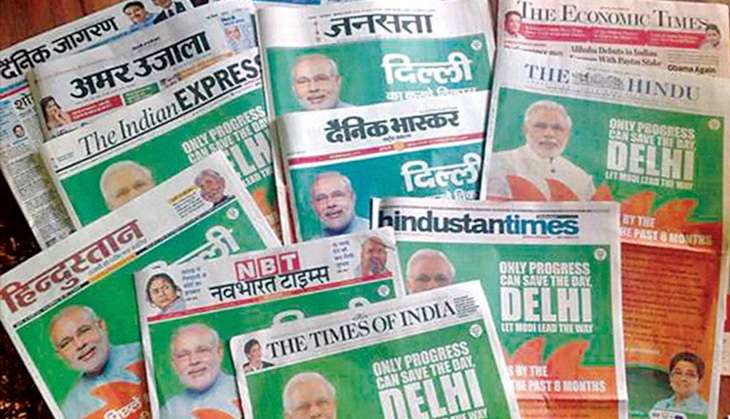 The Ministry of the Information of Broadcasting has listed three news agencies, subscribing to which will help newspapers earn extra points to bag government ads.
The Hindustan Samachar, a lesser-known news agency backed by BJP's ideological fountainhead - the Rashtriya Swayamsevak Sangh (RSS) - has also made the list.
According to the new point system introduced by the government to grant ads through the DAVP (Directorate of Advertising And Visual Publicity), newspapers will get 15 points for subscribing to one of these news agencies:
1. Press Trust of India (PTI)
2. United News of India (UNI)
3. Hindusan Samachar
DAVP is the "nodal agency to undertake multi-media advertising and publicity for various Ministries and Departments of Government of India".
Hindustan Samachar
Hindusthan Samachar, a multilingual news service, was founded by RSS pracharak and co-founder of the Vishwa Hindu Parishad, Shivram Shankar Apte, in 1948.
The service has been trying to revive itself since the Emergency, when restrictions were imposed on it. The agency shut down temporarily in 1986, only to be revived in 2000.
When the ministry made the announcements about its new policy on 10 June, Joint General Secretary of RSS Dattatreya Hosabale visited the Noida office of the news agency and expressed his confidence in its chairman Ravindra Kishore Sinha's vision.
Visited new office of Hindustan Samachar at NOIDA. New Chairman RK Sinha who has vision & mission has determined to take it to new heights.

— Dattatreya Hosabale (@DattaHosabale) June 10, 2016
Sinha, a journalist and founder of SIS (Security and Intelligence Services India Ltd) is a Rajya Sabha member.
One of the richest candidates to contest elections, he represented Bihar State and was nominated by the Bhartiya Janata Party (BJP) in 2014.
What is the new I&B policy?
According to the Information and Broadcasting Ministry the new policy will ensure "transparency and accountability" in the way government ads go to publications.
Apart from subscription to the three listed news agencies, organisations can earn 20 points if they have EPF subscription for its employees. Similar weightage is given to the circulation reach of the papers.
Here is what the I&B press release says about the new policy:
"For the first time the policy introduces a New Marking System for newspapers to incentivize Newspapers who have better professional standing and get their circulation verified by ABC/ RNI. This will also ensure transparency and accountability in the release of advertisements by DAVP. The marking system is based on six objective criterions with different marks allotted to each criterion. The criterion includes Circulation certified by ABC/RNI (25 marks), EPF subscription for employees (20 marks), number of pages (20 marks), subscription to wire services of UNI/PTI/Hindustan Samachar (15 marks), own printing press (10 marks), annual subscription payment to PCI (10 marks). Advertisements shall be released by DAVP to Newspapers based on marks obtained by each newspaper."