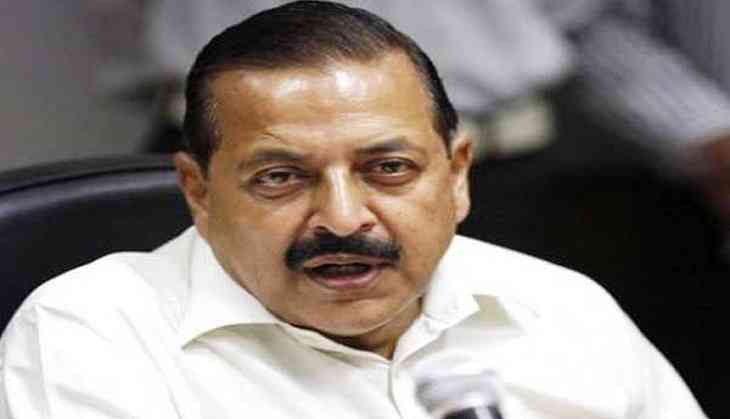 The record breaks nine times hike in four years of Modi-led BJP government has raised indefinite questions on the BJP government and on its minister. The Minister of State Jitendra Singh on a program on news channel was questioned on the petrol and diesel prices hike on which he refuted to answer. Singh clearly stated that he had not come with PM permission from PM Modi. During the show, the program Anchor had asked him the oil prices are increasing daily, is PM Modi worried about it and if so, how worried are you?
The show anchor, Sushant Sinha has shared the video clips of the program on social media and wrote, "When asked questions on the increased prices of petrol diesel, the minister's reply-" I have not come with permission from Modiji to answer it. " It seems that the minister laughs after this. Explain that on the thirteenth day, petroleum companies have increased prices of petrol and diesel. Many organizations have expressed anger over this.
On the other hand, Bihar Deputy Chief Minister and Leader of the Opposition, Tejashwi Yadav, is tensed on the reply of the Union Minister and asked whether a minister cannot speak anything without the permission of the Prime Minister?
He tweeted, "PM Modi's minister cannot tell anything without the permission him? When asked by the Union Minister about the prices of rising oil, he said, "Before coming here, I have not allowed the Prime Minister to answer it. "It makes a good robot as a minister or a man."
क्या प्रधानमंत्री की बिना इजाज़त के उनके मंत्री कुछ भी नहीं बोल सकते?

केंद्रीय मंत्री से जब बढ़ती तेल की क़ीमतों पर सवाल पूछा गया तो उन्होंने कहा," यहाँ आने से पहले प्रधानमंत्री जी से इसका जवाब देने की अनुमति नहीं लेकर आया हूँ।"

इससे अच्छा रोबोट को ही मंत्री बना देते या बन जाते pic.twitter.com/yrSNtQ8TDk

— Tejashwi Yadav (@yadavtejashwi) May 25, 2018
Let us tell you that in the last 13 days, petrol has become more expensive than Rs. 3 per litre. Petrol was sold at Rs 77.83 per litre in Delhi on Friday (May 25th). Petrol and diesel prices have also been increased on Saturday (May 26th).
According to Indian Oil Corporation, the price of petrol in Mumbai was Rs 85.78 per litre on Saturday, which was Rs 85.65 per litre on Friday. Petrol in Delhi is Rs 77.97, Kolkata Rs 80.61, while in Chennai the petrol is being sold at Rs 80.95 a litre. In Mumbai, diesel is being sold at Rs 73.36 a litre on Saturday, diesel was Rs 72.20 on Friday. According to Indian Oil, these prices may vary according to different outlets.
Also read: Modi government completes 4 years: BJP chief Amit Shah says, 'Mayawati-Akhilesh Yadav alliance will be a challenge for BJP in 2019