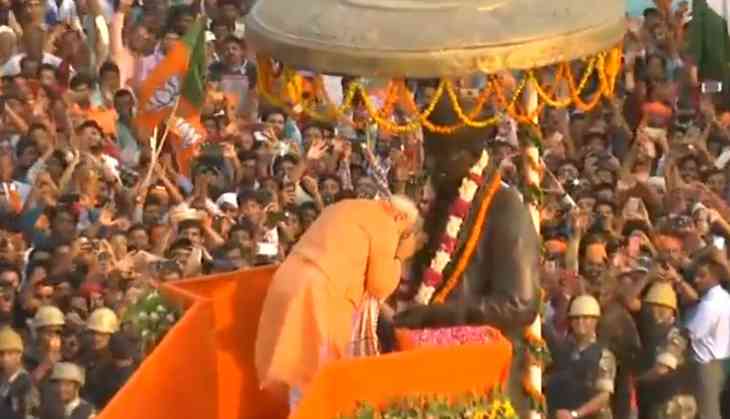 As the election bandwagon of PM Narendra Modi reaches Varanasi, the city has transformed itself into a 'saffron tsunami' and the supporters, citizens have hijacked the city with Modi chants all over.
In the run up to the Lok Sabha polls, PM Narendra Modi, who is solely contesting from Varanasi constituency this time, (in 2014, he also contested from Vadodra constituency) will file his nomination on April 26.
PM Narendra Modi, while tweeting out his acknowledgement about visiting Varanasi, said, "After bumper rallies in Darbhanga and Banda, I am heading to beloved Kashi. There are a series of programmes lined up, which would give me another excellent opportunity to interact with my sisters and brothers of Kashi. Har Har Mahadev!"
#WATCH Varanasi: Prime Minister Narendra Modi pays tribute to Pt Madan Mohan Malaviya, outside Banaras Hindu University (BHU) pic.twitter.com/1ivDSQ5vhw

— ANI UP (@ANINewsUP) April 25, 2019
Varanasi is set to vote in the last and seventh phase of polls which will be held on May 19. The results will be declared on May 23. Congress has announced Ajay Rai as its candidate from the Varanasi seat, and ended eh speculation of a Priyanka Gandhi vs PM Narendra Modi contest.
While detailing about PM Modi's schedule, the BJP said, "After the roadshow, the Prime Minister will participate in the Ganga Arti at Dashashwamedh Ghat. After that, at 8 pm, he will have a conversation with eminent personalities of Varanasi at Hotel De Paris."
One of the new supporter of the BJP, shehnai maestro Ustad Bismillah Khan's grandon Ustad Nasir Abbas wished PM Modi ahead of his nomination filin.
Ustad Nasir said, "In 2014, we received an invite from the Bharatiya Janta Party but we had no knowledge about politics at that time as we are musicians. Also, some members from the Congress had brainwashed us and asked us not to join Prime Minister Modi's nomination team. Due to this, my family had rejected the invitation. Later, we regretted the decision as we had refused the honour given to us by the Prime Minister of this country."
Also read: Show of strength: PM Modi's mega roadshow in Varanasi; to file nomination on April 26