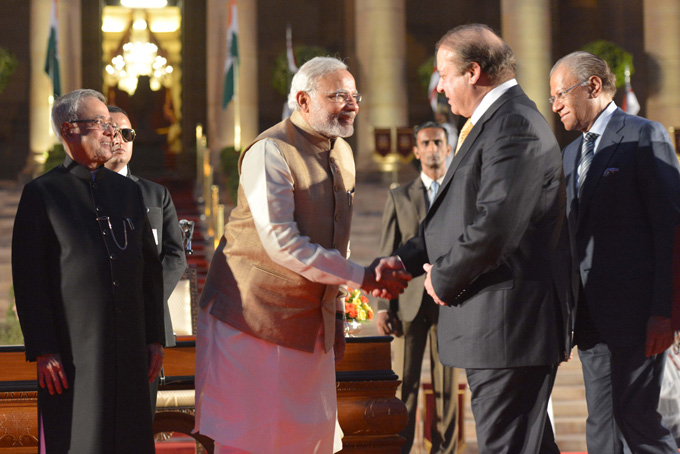 Prime Minister Narendra Modi and his Pakistani counterpart Nawaz Sharif will stay at the same hotel in New York, as speculation grows on whether the two leaders will meet when they arrive in the city for the landmark 70th UN General Assembly session this week.
Modi, who arrives 23 September evening, will stay at the iconic Waldorf Astoria Hotel, as will Sharif when he reaches New York on the evening of 25 September, sources said.
While there has been no official announcement about any possible bilateral meeting, it is interesting to note that Modi and Sharif will be staying at the same hotel.
It remains to be seen whether the two leaders will come face-to-face by chance during their stay in the hotel.
Modi will address the Sustainable Development Summit hosted by UN Secretary General Ban Ki-moon on 25 September, when the new and ambitious post-2015 development agenda will be adopted. Sharif is scheduled to address the high-level meeting on 27 September.
Modi will be in California on 26-27 September and will return to New York on 28 September, when apart from meeting US President Barack Obama, he will attend the high-level Peacekeeping Summit at the United Nations headquarters. Since Sharif will also be attending the summit, the multilateral gathering will provide a forum for the leaders of India and Pakistan to come face-to-face. The peacekeeping summit will be addressed by the UN Secretary-General and Obama.
India is the single largest contributor to UN peacekeeping and so far 180,000 Indian troops have participated in 44 of the 69 operations mandated by the Security Council. Pakistan is also among the troop contributing countries to UN peacekeeping missions.
Modi will depart for India late 28 September or the early morning of 29 September but Sharif will remain in the city. He will address the annual debate of the General Assembly on 30 September, a day before External Affairs Minister Sushma Swaraj addresses the gathering of world leaders on 1 October.
The Waldorf Astoria has traditionally been the hotel of choice for US Presidents when they visit the city for the annual UN General Assembly sessions.
However, last year a Chinese company purchased the hotel, triggering concerns of potential cyber intrusions by Chinese hackers if Obama stayed there. The President and his staff will be staying instead at the New York Palace Hotel this time.
The New York Palace has traditionally been the hotel where Indian heads of government stayed when they came for the UNGA. Last year Modi and before him Prime Minister Manmohan Singh had stayed at the New York Palace.
- PTI