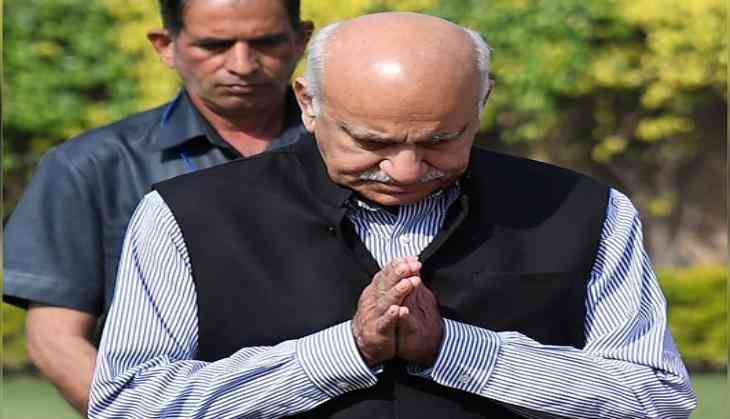 The allegations against the Union Minister MJ Akbar seems to have no end. Former senior editor, MJ Akbar had filed a defamation case against journalist Priya Ramani, one of his accusers in the #MeToo movement. But another women join the rebellion against the sexual harassment and accuses him of sexual harassment.
Where a controversy-seeking Akbar's resignation was making a row, on which he said he will not quit as Union Minister of State for External Affairs after being accused by several women journalists of sex harassment.
A woman journalist in an article in the Scroll.in has expressed surprise at his "complete lack of contrition and attempt to victim shame". She was part of the team that started the Asian Age - Mr Akbar was editor of the newspaper for 15 years.
She has accused the former editor of kissing her forcibly, twice, and greeting her one time in his hotel room in his underwear.
"I am reading with indignation, but not surprise, about your complete lack of contrition, your lies, your facetious arguments, your lack of sensitivity in your attempt to victim shame and some remarkably stupid statements. If I don't speak up now, I feel I'll be complicit in your crimes," she writes.
"You opened the door dressed only in your underwear. I stood at the door, stricken, scared and awkward. You stood there like the VIP man, amused by my fear... Does greeting a 22-year-old in a state of undress pass your test of morality? Is that not "doing" something?" Her reference was to the minister's defence that his accusers had said he didn't "do" anything.
In another incident, Mr Akbar allegedly summoned Ms Patel to his hotel again for work. "Suddenly you got up, grabbed me and kissed me hard - your stale tea breath and your bristly moustache are still etched in the recesses of my memory. I wriggled out and ran till I reached the road, jumped into an auto rickshaw and started crying."
It happened again the next morning, said Ms Patel. "You ushered me into the empty conference room, grabbed me again and kissed me. Defeated, humiliated, blinded by hurt and tears, I stayed in that room till I stopped crying. I waited till you had left the building, went to the bathroom, washed my face and carried on to finish my page."
Ms Patel said the minister should stop lying and show some contrition.
"...So please stop with the lying... And enough with the legal intimidation - we can see you in court too. We are not confused, conflicted or vulnerable any more. Our time to speak is now - when we don't have to run to a police station to lodge a complaint before anyone would give us a hearing."