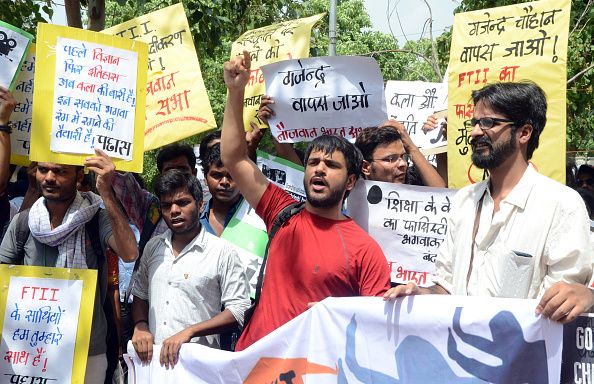 Even after a 73-day-long deadlock at the Film and Television Institute of India, there are no signs of resolution visible. Instead the matter took a new turn on 20 August, with the government deciding to hire bouncers to protect the FTII director and its staff at their Pune campus.
After director Prakash Pathrabe told the media that he feared for his life following a gherao and lockdown by students, the Information and Broadcasting Ministry, which runs the FTII, asked for more security at the campus.
A four-tiered security system has now been put in place in the campus, which includes muscular men in black uniforms to guard the campus. All vehicles entering the premises are thoroughly checked.
On 18 August, the police arrested five FTII students for rioting, illegal confinement and more after they gheraoed director Prashant Pathrabe for nearly eight hours. The arrests triggered national outrage.
Later, the arrested students were produced before a magistrate and remanded to judicial custody till 1 September . Their lawyers Asim Sarode and Shrikant Shivade moved the court and the students got bail on sureties of Rs 3,000 each.
On 19 August, Pathrabe told the media that the students kept him in illegal confinement for 8-10 hours and vandalised his office, forcing him to lodge a police complaint. "I really wonder by what yardstick you can call such people 'students'. They wanted to enact a drama. It was all pre-planned to show the institute and the director in poor light," he said.