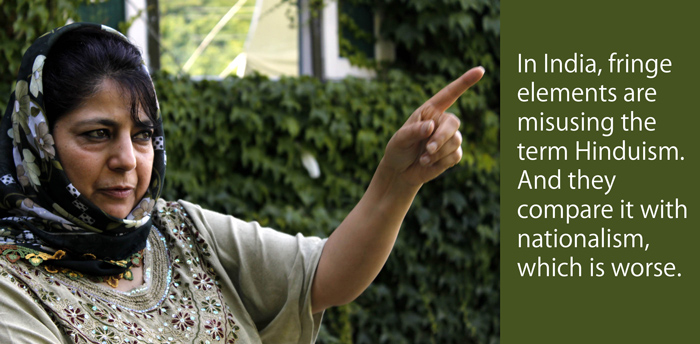 Mehbooba Mufti, president of Jammu and Kashmir Peoples Democratic Party, who could soon become Jammu and Kashmir\'s first female Chief Minister, spoke on a range of issues at the Hindustan Times Leadership Summit today.
While Mehbooba Mufti avoiding making controversial statements, she was upfront in her responses.
Here are the key takeaways from the conversation:
1. On Article 370: The first point of our agenda of alliance was that as far as Article 370 is concerned, no fiddling. Jammu and Kashimir is a unique state. If Kashmiris chose to be part of India, we need to be treated specially.
2. On the possibility that she may soon be the first woman CM of Kashmir: Gender should have nothing to do with your ability and performance. I think we are beyond that.
3. On the beef debate: We have nothing to eat and you ask me what meat to eat! People have shown what they want. They don't want a meat debate. The Bihar polls have done a great job in politics for India.
4. On Hindutva: What is happening in Syria, Afganistan and other places is that the fringe elements are misusing the name of Islam. And in our country, there are fringe elements who are misusing the name of Hinduism. And they also compare it with nationalism, which is worse.
5. On tolerance: If you ask me to pick up a quality of Hinduism, it is tolerance. And our country is known for tolerance.
6. On the media's projection of the valley: Showing youngsters with Pakistani flag has become old-fashioned. So now they are shown with ISIS flags. Those youngsters don't even know what they are doing. The media needs to introspect. No one shows August 15 celebrations in Kashmir.
7. On ISIS: ISIS is totally against the very basis of Islam. I don't think Kashmiris will follow what ISIS stands for. ISIS stands for murder, rapes, plundering. How can this be Islam? Islam is the total antithesis of what they are doing.
8. On Narendra Modi: He is coming around, I think. Jab kisi ko mukhiya chuna jata hai to unhe sabki problems dikhti hai. We can see that. Sushma Swaraj is going to Pakistan.
9. On the govt not allowing the Indo-Pak cricket match even in a third country: I don't understand, you know. When cross-border firing was going on a few days ago and retired army officers were fighting with each other (on television channels) we were still importing onions from Wagah border. No body said we shouldn't import onions. At that time time, we needed onions and we imported cheap onions from Pakistan.