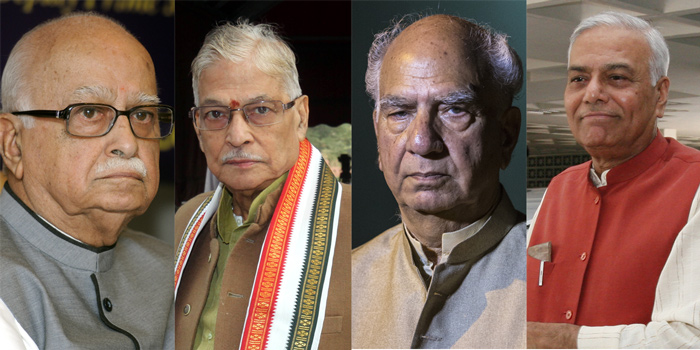 The BJP might have relegated them to an insignificant corner of party affairs, but one of the most scathing criticism of the party's performance in Bihar has come from them. The Margdarshak committee comprising BJP veteran leaders beyond 75 year of age have issued a joint statement today asking for an honest review of party's loss in Bihar elections that concluded on Sunday.
Speaking to Catch, veteran leader Murli Manohar Joshi said, "I am not authorised to comment further. We have said in the statement whatever we felt. This is based on what many people have told us in last few days."
"Hamara dharm tha batana, humne bata diya. Baaki to yeh ek vishal party hai. Jinko tay karna hai, karenge,"(It was our duty to tell them, so we did that. Otherwise this is a huge party. Those responsible will decide the course of action.) Joshi further added.
Read More: Counterview: is #BiharResult a blessing in disguise for BJP?
The backdrop:
In the recently concluded Bihar Assembly elections, BJP managed to get only 58 seats out of 243 seats while the Mahagatbandhan registered a sweeping victory winning 178 seats.
The BJP party leadership refrained from blaming either Amit Shah or Narendra Modi for the debacle while the opposition pointed out that BJP had lost seats in areas where PM Modi had campaigned extensively.
After 2014 General Elections, BJP leadership had dropped veterans from the parliamentary board and formed a new committee titled Margdarshak Mandal to rehabilitate them while keeping them away from major party activities. This move had drawn flak from the Opposition which went on to say that they have been put in an old age home. Party president Amit Shah was supposed to consult the Mandal on major policy matters but we are still to hear about such a meeting in the last one year of NDA rule.
Meanwhile, reports added that Arun Shourie and Yashwant Sinha first met Murli Manohar Joshi and the trio then met Advani over the issue before issuing the statement.
Read More: BJP's #BiharResult postmortem report: don't blame Modi, Shah, RSS
Below is the full text issued by LK Advani, Murli Manohar Joshi, Shanta Kumar and Yashwant Sinha:
The results of the Bihar elections show that no lesson has been learnt from the fiasco in Delhi.To say that everyone is responsible for the defeat in Bihar is to ensure that no one is held responsible. It shows that those who would have appropriated credit if the Party had won are bent on shrugging off responsibility for the disastrous showing in Bihar.

The principal reason for the latest defeat is the way the Party has been emasculated in the last year.

A thorough review must be done of the reasons for the defeat as well as of the way the Party is being forced to kow-tow to a handful, and how its consensual character has been destroyed.

This review must not be done by the very persons who have managed and who have been responsible for the campaign in Bihar.