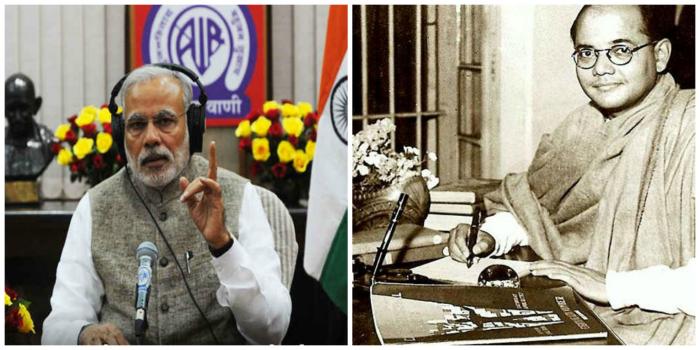 With Mamata Banerjee stealing the thunder on the Netaji files, Prime Minsiter Narendra Modi seemed to be in a damage control mode during his Mann ki Baat speech today.
He saved a significant chunk of his monthly address on All India Radio, for Netaji Subhash Chandra Bose.
His radio address, that completed a year today, comes two days after the West Bengal government made 64 file related to Netaji public amid much media glare. Banerjee also criticised the Modi government for not ordering a probe into the alleged snooping on Bose family during Nehru's regime.
The prime minister, a master narrator of anecdotes, spoke about how the the founder of the Indian National Army, much like him, was a fan of the radio as a medium of communication.
"You know, Subhash babu used to talk with people of India during independence struggle through radio from Germany. He started Azad Hind radio on weekly basis in regional languages. I have also completed one year of Mann ki Baat and it has now become your mann ki baat. I speak but the feelings are yours."
He cautiously, dodged talking about Netaji files directly. But extended an olive branch to Netaji's family members, who have been demanding that the Centre declassify all files related to the freedom fighter. They also want the Centre to probe the snooping on Bose family, most of which happened during Jawaharlal Nehru's tenure.
Modi said 50 members from the Bose family from across the world would be visiting his residence soon.
Recalling the time he spent with the Bose family in Kolkata this May he said:
"I got an opportunity to spend some time with them. That day it was decided that the extended family of Subhash babu will visit the Prime Minister's residence.. Last week, I got confirmation that over 50 members of Subhash babu are coming to visit the Prime Minister's residence. Over 50 members of Subhash babu's family, from various countries, will be coming.I am happy to welcome them."
He said that he would perhaps be the first Prime Minister to get the honour of hosting kin of the freedom fighter.
Netaji's grand nephew Chandra Bose had praised Mamata governemnt for releasing secret Netaji files that were in possession of the state for a long time. While 64 files related to Netaji are in the public domain now, several files that could throw light on the mystery around his disappearance in 1965 and death are classified. When in opposition, BJP supported the release of the files, but after coming to power it refused to so on the ground that releasing the documents would hinder India's international ties - a reason that previous UPA government also gave.
While ideally all documents should be declassified after a period of 30 years, in India, the government can keep any document classified for an indefinite period citing reasons such as "extremely sensitive", "of current operational value" and "country's sovereignty and integrity", etc.