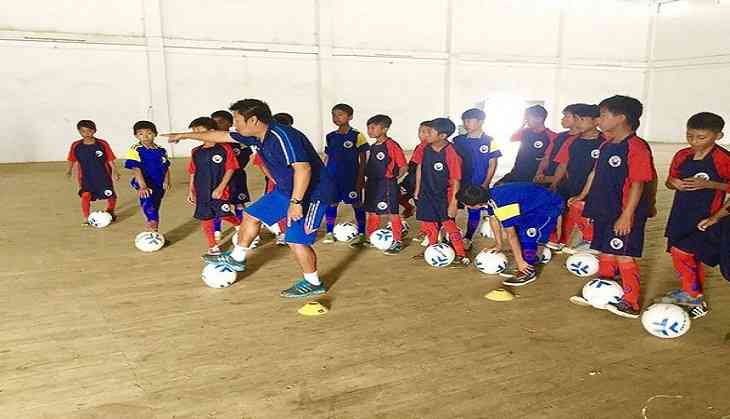 Training camps have always been a crucial part of enhancing particular skills. Therefore, to nurture the talent of budding sportsmen in Manipur, the Ukhrul United Football Club in collaboration with the North Eastern Council and Sports Authority of India has created a space to train youngsters in football.
The football camp gained popularity among students and witnessed hundreds of students who attended the camp to brush up their soccer skills this summer vacation. The one of a kind training camp lasted for three weeks, letting the young talent explore the dimensions of their favourite sport.
Angaritsing Zimik, Managing Director, Ukhrul United FC, said that, "after every camp, we hold a seminar for parents and children alike. We teach them the prospect of football and how sports can help them develop through health, identity, education and how to have fun and leisure. During the summer vacation, most of the students didn't know what to do and they involve in other anti-social activities. So having this camp, I believe that it also can improve the society at a larger scale."
The camp seems to be celebrating the spirit of sports, especially soccer, organised for young players perfect grooming and giving them a platform to showcase their talent. Various techniques of the game like passing the ball, heading, chest control, balancing and stamina building are involved during the training process.
Wunglemphey Zimik, a camper who had attended the camp, shared, "what I have learned here is very useful for what I would be doing in the future. It has made me healthier and has taught me many techniques that I can do by myself at home too."
As the camp inculcates healthy habits in children, the parents too, very sportingly looked forward and involved their kids in this camp with a hope of shaping a better future of their wards while promoting an active lifestyle habit in them.
Ashang, father of the camper claimed that, "as a parent, I am very grateful to the organizers for hosting such a camp for shaping the youngsters' future in sports and training them in soccer. I strongly believe that such a camp will bring a great change in the society."
Nurturing the skills of our young and talented generation with the help of these training camps is an important part for the growth and development of the country.
-ANI