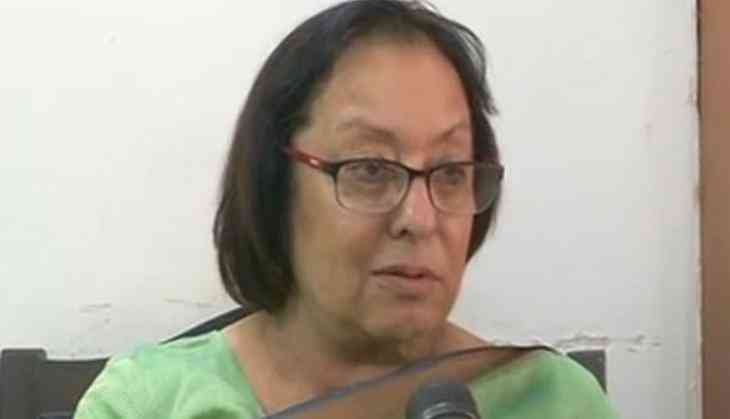 Manipur Governor condemns Hamid Ansari's 'derogatory' remarks
Manipur Governor Najma Heptulla on Friday condemned outgoing Vice-President Hamid Ansari over his "derogatory" remarks about Muslims of the country.
Speaking to ANI, Heptullah said, "People sitting on the high constitutional position should avoid making such statements which can spoil the atmosphere. Our responsibility should be to help people to live in peace. Making such derogatory remarks should be avoided as much as possible."
Resonating similar views, Bharatiya Janata Party (BJP) leader Nalin Kohli hailed the saffron party's ideologies, stating that they can never practice it or contribute to the insecurities towards any India citizen.
" Hamid Ansari can have a point of view but if that view is hurting the country's sentiments then it should be looked into. If the world has to be made a safer place then it is best that these kinds of statements are eluded which can cause a rift in the country. When the Government of India and saffron party is concerned; we do not practice it or contribute to the insecurities towards any India citizen," he said.
In his last interview on Wednesday, Ansari said that the Muslims in the country was experiencing "a feeling of unease."
"A sense of insecurity is creeping in as a result of the dominant mood created by some and the resultant intolerance and vigilantism," Ansari said in an interview with Rajya Sabha TV.
Ansari referred to the incidents of lynching and alleged killings as a "breakdown of Indian values, breakdown of the ability of the authorities at different levels in different places to be able to enforce what should be normal law enforcing work and over all the very fact that Indianness of any citizen being questioned is a disturbing thought."
Ansari has been in the firing line of the other BJP leaders for his 'Muslim comments.'
-ANI