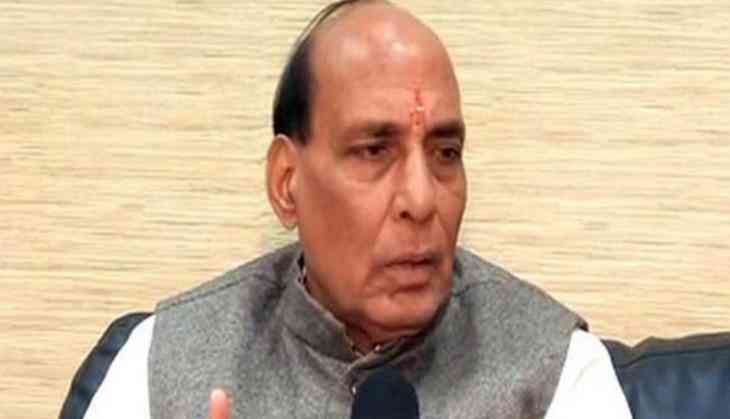 In the wake of the farmer's protest in Mandsaur in Madhya Pradesh, Union Home Minister Rajnath Singh on 8 june said that Bharatiya Janata Party-led NDA government will not take any step that will break the faith of farmers and the common man.
Singh said that there is information that some people were involved in instigating violence in Mandsaur.
"The central government will not do anything to betray their trust. We will solve farmers' problems, probe is on over violence during farmers' protest in Madhya Pradesh," he said.
He also appealed the farmers to keep calm and asked them to support the government.
Earlier in the day, Congress vice-president Rahul Gandhi was arrested in Madhya Pradesh's Neemuch under Section 151 of the Indian Penal Code (IPC).
This comes after he was detained while he was on his way to Mandsaur to meet the families of the deceased farmers.
After being detained, Gandhi said Prime Minister Narendra Modi only knows to fire bullets at farmers and not to waive off their loans.
"Prime Minister Narendra Modi neither waives off farmers' loans nor does he provide bonus. He only knows to fire bullets at the innocent farmers," Rahul told the media.
Rahul was detained by the police earlier in the day while he was on his way to Mandsaur district to meet the families of the deceased farmers.
The Mandsaur district of Madhya Pradesh has been facing a tense situation with farmers protesting over their demands for remunerative prices for their produce and a farm loan waiver not being met.
This unfortunately took an ugly turn on Tuesday when five farmers were killed and eight others were injured in police firing.
Internet services in Mandsaur, Ratlam and Ujjain were also suspended following the farmers' protests, and a curfew was reportedly imposed.
Chief Minister Chouhan on Tuesday announced a compensation of Rs. one crore each to the victims' families while Rs. five lakh for the injured.
In a video message, Chouhan also promised a government job to each of the victims' kin.
-ANI