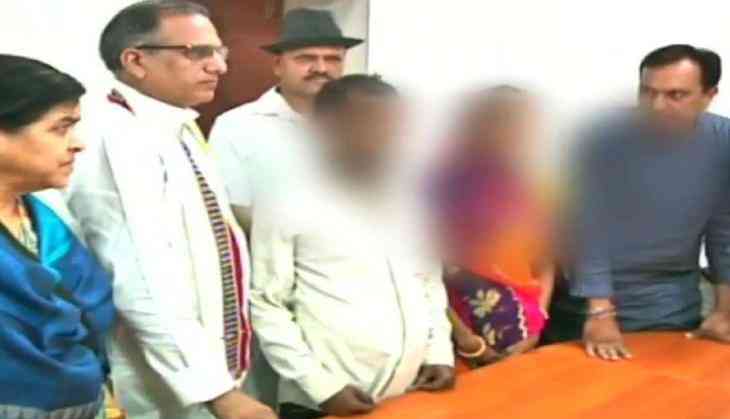 After 8-year-old minor was brutally gang-raped by Muslim men in Madhya Pradesh, the people came out on street to protest against the crime against the women and minors. While, the girl who is hospitalized and is in critical condition after undergoing multiple surgeries, BJP party leader from Madhya Pradesh evoked a row by asking the parents of a minor rape victim to express gratitude to the local MP for visiting them.
In a viral video, BJP legislator, Sudarshan Gupta can be seen asking the victim's kin to thank his party MP Sudhir Gupta for visiting them at the MY hospital to inquire about the minor girl's condition.
"Say thank you to the MP (Sudhir Gupta). He has travelled only to meet you (Sansad ji ko dhanyavad boliye, special aapke liye aaye hain)." One of the member in the hospital room captured the whole incident, after which it went viral in no time.
In the video, soon after the victim's parents are be seen nodding and folding their hands before Sudhir Gupta. Doctors said that the girl is undergoing treatment and was out of danger. The accused Asif (24) was held from Madarpura locality of the city, after Irfan alias Bhaiyu (20), arrested on Wednesday night. Asif, a construction worker, has admitted to raping the girl.
The duo accused are booked under relevant sections of the IPC and the Protection of Children from Sexual Offences (POCSO) Act. Further investigation was on, the ASP said.
Also read: Mandsaur Rape Case: 8-year-old raped, left with throat slit; doctors shocked with victim's injuries, says 'say she is 'too traumatised to talk'