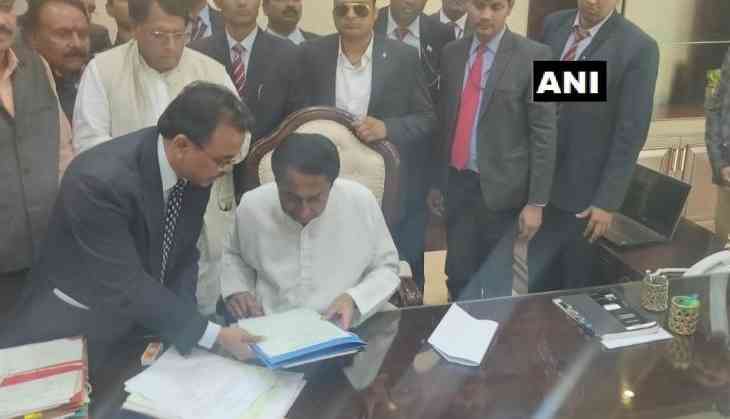 Kamal Nath signing the file
Newly elected chief minister Kamal Nath of Madhya Pradesh, in his first decision, has waived off the farm loans in a major relief to the agrarian distress.
Immediately after Kamal Nath was sworn in as the chief minister, the Madhya Pradesh government Monday issued an order waiving off short-term loans of farmers. Farmers who had taken loans from nationalized and cooperative banks before March 31, 2018 will be eligible for the loan waiver, according to Principal Secretary (Agriculture) Rajesh Rajora.
The pre-poll promise of the Congress party to waive off the farmers loan up to Rs 2 lakhs has been fulfilled by the Congress led Kamal Nath, immediately as he held the office today evening.
In a major relief to the farmers, Kamal Nath has turned the tables around and brought the Congress back in th egame for the 2019 Lok Sabha Elections, where Congress president Rahul Gandhi's image makeover will be of a man of promises and who can deliver rather than playing out divisive politics and polarization.
Earlier, Congress president Rahul Gandhi had announced that the loans of the farmers tuning up to Rs 2 lakh will be waived off in under 10 days.
Also read: Swearing-in-ceremony: Amid controversies, Kamal Nath takes oath as the Chief Minister of Madhya
Bhopal: Madhya Pradesh Chief Minister Kamal Nath signs on the files for farm loan waiver pic.twitter.com/NspxMA8Z6i

— ANI (@ANI) December 17, 2018