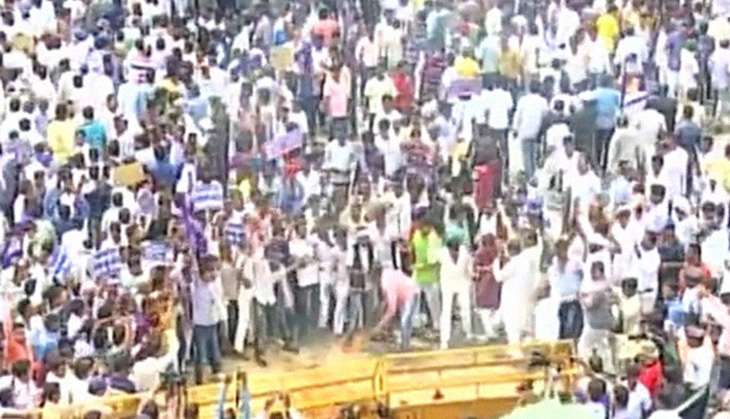 On 21 July, Bahujan Samaj Party took to the streets of Lucknow, protesting BJP leader Dayashankar Singh's derogatory remark against Mayawati. They burnt his effigy and demanded his arrest.
The protest is being held at the main Hazratganj crossing. BSP state president Ram Achal Rajbhar said the party supporters have been asked to gather in the state capital in larger numbers.
Meanwhile, the BJP has expelled Dayashankar Singh from the party for six years.
The Lucknow District Magistrate has said permission to protest at Hazratganj area is usually not granted due to traffic issues, public inconvenience and security concerns.
"If anyone gathers and tries to organise any protest at Hazratganj, we take action accordingly," he said.
BJP state president Keshav Prasad Maurya sacked Dayashankar Singh from the party yesterday, hours after he announced that Singh had been relieved from all organisational responsibilities.
After an FIR was lodged against Dayashankar Singh for his inflammatory comment, a police team reached his residence at UP's Ballia district, only to find him missing.
Protests have also been launched by BSP workers at Delhi's Jantar Mantar.
Dayashankar Singh's remarks drew severe criticism from members in the Rajya Sabha, including women MPs, with Deputy Chairperson PJ Kurien saying the House wants the government to ensure that stringent action is taken against the BJP leader, as per law, for his unforgivable comments.
There was uproar in the Upper House earlier as BSP leaders demanded Dayashankar Singh's arrest for his unwarranted remark against the former Uttar Pradesh chief minister.
Finance Minister Arun Jaitley earlier expressed "personal regret" in Parliament over Singh's remark.
"It is not right and I condemn the use of this word. And if a person has said this, we will investigate. I express personal regret. I associate with your dignity and stand with you," Jaitley told Mayawati in the Rajya Sabha.
The BSP chief on her part thanked Jaitley and other leaders in the Rajya Sabha for supporting her on the matter.
"There are war of thoughts and ideas in the House, but never have I used derogatory words against anyone ever," Mayawati said.
"Dayashankar Singh should be arrested otherwise if in response to this the people get violent, it will not be on my conscience," she added.
Singh, however, later tendered an apology for his remark.
--ANI