Namit Hans
| Updated on: 13 February 2017, 3:21 IST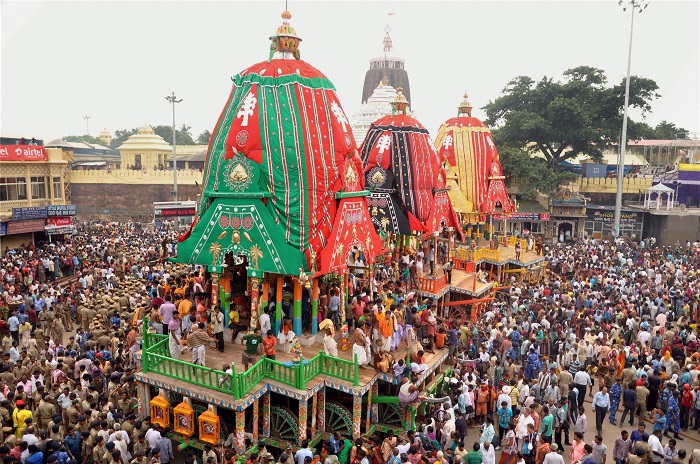 67 km long 'Rath Yatra' Puri began in the abode of Lord Jagannath - Puri on 18 July.
This is the biggest 'Rath Yatra' of the century both in terms of the length of the journey to be made by the Rath and the number of people who would gather to witness the event.
An unprecedented gathering of about 30 lakh people is expected to be in the city. This year the day is coinciding with the special Nabakalavera ceremony of the festival.
The procession is taken out annually during which the wooden idols of Lord Jagannath, Lord Balbhadra and Devi Subhadra are taken out of the temple area for everyone to see. Prime Minster Narendra Modi tweeted early in the morning and wished everyone on the auspicious occasion.
Wishing everyone on the auspicious occasion of the Rath Yatra. Jai Jagannath. pic.twitter.com/YWJGGyDGMV

— Narendra Modi (@narendramodi) July 18, 2015
The chariot left temple premises early morning and will be covering 14 KM before it returns in the evening.
What is Nabakalabera?
The ceremony is observed after every 12 to 19 years when the idols in the Puri Jagannath temple are replaced by the new ones. The event is related to the birth and rebirth cycle of the deities where they relinquish their old bodies to assume a new one.
Story of Puri Rath Yatra
There are several mythical stories explaining the event of Lord Jagannath leaving the temple. One of the most popular beliefs is that of Kansa sending his aide Akrura to bring Lord Krishna, who is also known as Jagannatha to Mathura from Gokul. The departure of Krishna from Gokul is celebrated during the 'Rath Yatra'.
Another legend says that the event is celebrated to mark the tour of the city taken by Lord Jagannatha's on the insistence of his sister Devi Subhadra, along with brother Balabhadra on a tour of the city.
What are the preparations?
The Odisha government has established 30 temporary shelters to house the devotees who will come to be a part of the event.
Over a dozen health centres have also been opened to deal with any urgent medical emergencies.164 platoons, 12 Superintendent of Police and 30 Assistant Sub Inspectors will keep a vigil on the security problems.
Along with this, three companies of Rapid Action Force and 160 CCTV cameras have been installed.The road in front of the temple is announced to be a 'no flying zone' to avoid any security threat to the people participating in the Yatra.