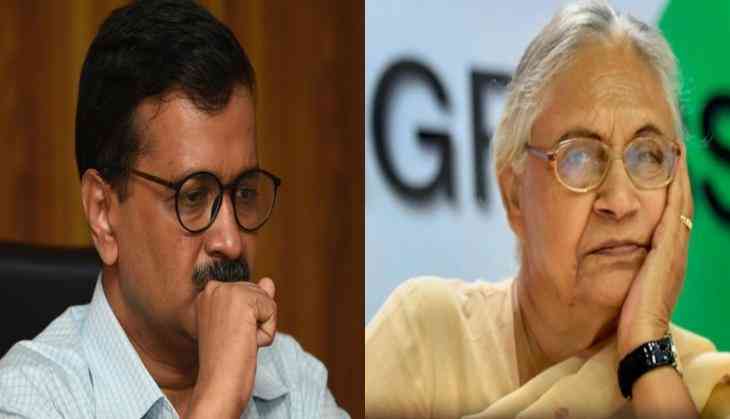 Arvind Kejriwal and Sheila Dikshit
Ending the speculation of alliance with the Aam Aadmi Party, the Congress party has released its list of candidates for the Lok Sabha polls in Delhi and Delhi Congress president Sheila Dikshit will be contesting against BJP's Manoj Tiwari from North East Delhi.
Out of the 7 parliamentary seats, the Congress has announced the names of 6 candidates and former DPCC chief Ajay Maken will be the Congress' candidate from New Delhi. The BJP also announced it's list for four candidates and the New Delhi seat is still pending, wherein media reports have claimed that cricketer turned politician Gautam Gambhir could be among the race.
Shelia Dikshit, while speaking about her candidature has said, "I'll do my best to fulfill the responsibility given to me. I've contested from here earlier, I know the people here and they know me. We had started Metro from here, our reputation is of working for the people."
Congress releases list of candidates for 6 out of 7 Parliamentary constituencies in Delhi. Former Delhi CM Sheila Dikshit to contest from North East Delhi. #LokSabhaElections2019 pic.twitter.com/p62NehK1Vu

— ANI (@ANI) April 22, 2019
Other Congress names include JP Agarwal from Chandni Chowk, Arvinder Singh Lovely from East Delhi, Rajesh Lilothia from North West Delhi and Mahabal Mishra from West Delhi.
Since last one month, the political corridors of Delhi has been ringing with a possible tie-up between the AAP and the Congress, collectively to defeat the BJP but things couldn't churn out.
The AAP has alleged that the Congress could not finalize upon an alliance in Haryana and Punjab and the Congress said that their offer of 4-3 seats in Delhi was clear. In the run up to the polls, Delhi is set to vote on May 12 and now, the battle has become a triangular contest.
Sheila Dikshit, former Delhi CM, had not been in favour of an alliance and other Delhi Congress leaders kept a vice-versa view. Although, Congress president Rahul Gandhi tweeted out that the 'gates for an alliance were still open' but Arvind Kejriwal had a differing opinion.
Also read: Varun Gandhi's message to Muslim voters: If you don't vote for me then..