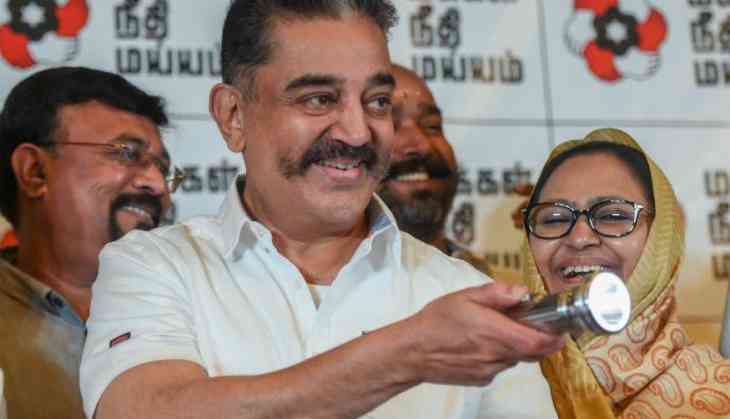 Kamal Hasaan on Sunday made an announcement that he won't be contesting the upcoming Lok Sabha elections. Actor-turned-politician released its party Makkal Needhi Maiam or MNM manifesto and the second list of his candidates at a function in Chennai on Sunday.
The 64-year-old Kamal Haasan said, "All candidates are my faces. I am proud of being the chariot puller than being the chariot". He will be campaigning for the candidates of his party instead of taking the electoral plunge himself.
"This palanquin is not for me to ride. My destination and endeavour are Tamil Nadu. That doesn't mean I am not interested in this. I am very interested. I want our party foundation to be strong. That is why we want to be present in the Parliament to voice Tamil sentiments. Nearly after 50 years we will have a proper voice that will resonate in the Parliament and it will be my army of gentlemen," Kamal Haasan said.
Haasan also came up with a list of big promises that highlighted jobs, equal pay and reservation for women and an astounding 100 per cent profit for farmers.
MNM party chief promised to generate 50 lakh jobs and give women 50 per cent reservation in them if voted to power. He also said that women would get paid equal to men. Hasaan promised free WiFi services, no toll on highways and home delivery of rations of the Public Distribution System.
The polling for the General Elections is to begin on April 11 and the results will be declared on May 23rd.
Also read: Also read: Country going through big job crisis, will be a key issue in Congress' campaign: Sam Pitroda