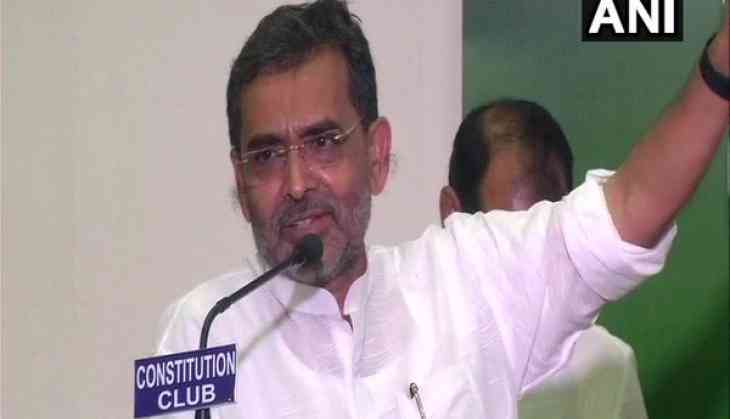 An ally of the BJP in Bihar, Upendra Kushwaha had been disgruntled with the leadership ever since the seat distribution started but has cleared the air by favoring PM Narendra Modi.
The NDA has 3 allies in Bihar, which includes the CM Nitish Kumar's JDU, Upendra Kushwaha's RLSP and Union Minister Ram Vilas Paswan's LJP. As per the seat sharing deal, struck between the BJP president Amit Shah and Nitish Kumar, both the parties are contesting17 seats each in the 39 constituencies.
The remaining 6 seats were to be divided amongst the LJP and RLSP and since then, Upendra Kushwaha has been under the logjam towards the alliance, as he even et the Opposition leaders including Tej Pratap Yadav.
While negotiation over the seat-sharing is on in Bihar, the disgruntled politician of RLSP has tweeted saying, "I want respected Prime Minister Narendra Modi-ji to be the prime minister again in 2019, but not by tolerating insults."
Kushwaha reiterated the lines of famous poet Ramdhari Singh Dinkar stating that "Give me justice, but if there is any problem in it, then give me the respect that I deserve and keep everything else."
Although, the BJP seems to be quite cool over the issue as in an interview, when party president Amit Shah was asked about the situation in Bihar and his allies, he had said that they are not unhappy or sad, and the party will resolve the issues at the earliest.
BJP's party-in-charge in Bihar, Bhupendra Yadav had said that "Upendra Kushwaha met me twice (in Delhi) and apprised me of all issues (concerning seat sharing). Talks were held in a cordial atmosphere."
Also read: 26/11 attack: US to give $5 million reward for giving an information about the attackers involved in