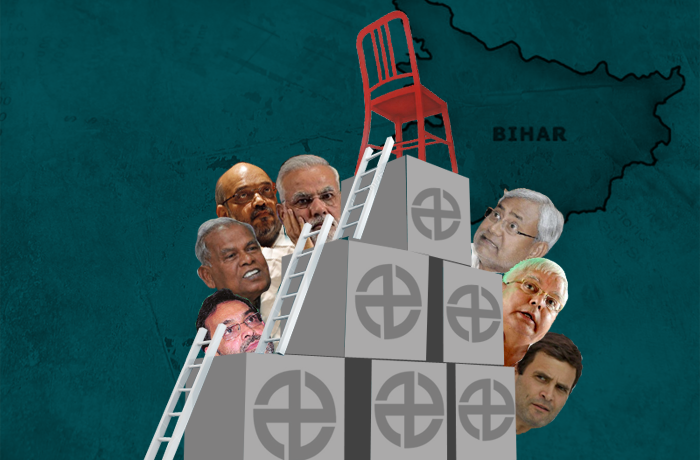 Five phases. 243 seats. 6.68 crore voters. And 3,450 candidates in the fray. That's Bihar elections in numbers. However, the only numbers that matter now is who wins how many seats.
Even as we wait for the results, which will be declared on 8 November, several exit polls have already made their predictions.
Out of seven exit polls, five have given the Grand Alliance an edge over the BJP led NDA. However, the competition is neck to neck.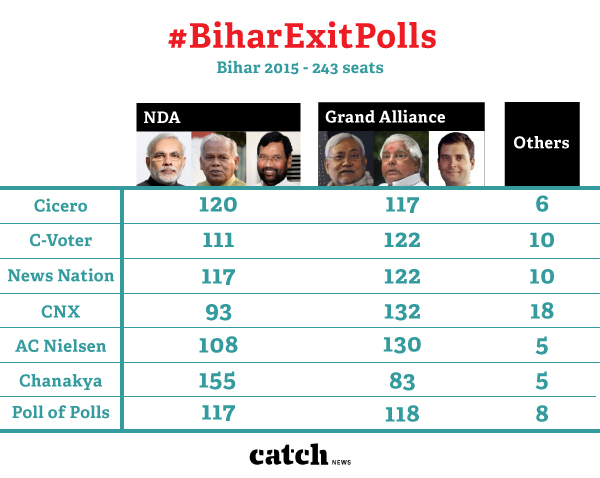 NDA constitutes BJP, Ram Vilas Paswan's Lok Janshakti Party, Jitan Ram Manjhi's Hindustani Awami Morcha (Secular) and Upendra Kushwaha's Rashtriya Lok Samata Party. Up against this formidable combine is the
Congress
, the ruling JD(U) and Lalu Prasad Yadav's RJD.
Apart from these bigger players, there are also smaller players. Asaduddin Owaisi's MIM, Sharad Pawar's NCP and Mayawati's BSP have also contested on a number of seats. The presence of these smaller players, as per the exit poll results, had negligible impact.
Here's what the exit polls say:
Times Now's C Voter exit Polls
Grand Alliance just hits the mid-way mark, according to the poll, while being comfortably ahead of BJP's 111 seats. In terms of vote share, Grand Alliance bags 42 per cent of the vote share and the BJP led NDA is comes a close second with 41 per cents.
BJP+ -- 111
JDU+-- 122
Others-- 10
Total -- 243
India Today- ITG Cicero Survey
This survey shows a neck to neck contest between the two main players, while giving a slight edge to NDA. According to the exit poll, Grand Alliance gets 40 per cent of the vote share while NDA gets 41 per cent.
BJP+ -- 113- 127
JDU+ -- 111- 123
Others -- 4-8
Total -- 243
News X-CNX
CNX predicts a comfortable victory for the Grand Alliance.
BJP+--90-100
JDU+--130-140
Others--13-23
India TV-CVoter
Another neck-to neck prediction with the Grand Alliance getting a slight edge.
BJP+ -- 101-121
JDU+ -- 112-124
Others -- 6-14
Chanakya
Chanakya's predictions are drastically different from the rest of the exit polls. It gives BJP a thumping majority of 155, which is 46 per cent of the votes, while JDU has to contend with 39 per cent of the vote share.
BJP+-- 155
JDU+-- 83
Others--5
News Nation
BJP+-- 115-119
JDU+-- 120-124
ABP-Neilsen exit poll
BJP+ -- 120
JDU+ -- 117
Others -- 6
Here's what the poll of polls say:
BJP+-- 117
JDU+ -- 118
Others -- 8
Clearly, it's a very close contest!