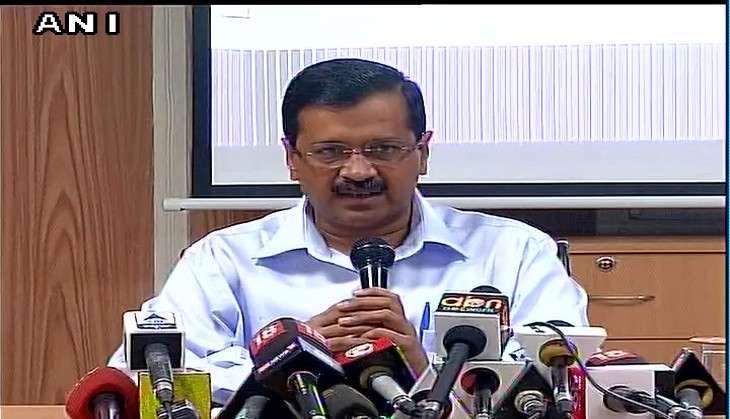 Delhi Chief Minister Arvind Kejriwal on 12 November addressed a press conference in the national capital and alleged that some members of the BJP and its "friends"were informed about the demonetisation of high value currency before the public announcement.
Highlights from the press conference:
- Huge amount of cash in Rs 1,000 notes were deposited in the bank account of certain BJP leaders in recent months. He also claimed that some of them had minimal activity in their accounts but the deposit growth soared instantly when crores were deposited in their bank account.
- BJP has managed their funds much before the announcement was made and the demonetisation was a massive "scam".
-The move is not a surgical strike against black money but a surgical strike against the savings of the common people.
-A BJP leader in Punjab posed with bundles of Rs. 2,000 on Twitter days before PM's announcement. How did that happen?
-People are finding ways to exchange their Rs 500 and Rs 1000 notes. People with black money are buying dollars, gold, property.
-PM Modi has unleashed a huge scam in the name of fighting against black money. He has purposely created a crisis situation to help the money launderers.
- I want to ask PM Modi, who has black money? Amit Shah, Subhash Chandra, Badal or the common man?
- We are questioning Government's intent, their intention is wrong. The decision of demonetisation of Rs 500/1000 notes must be rolled back.
This comes soon after reports surfaced that a a huge amount of cash worth Rs 1,000 notes were deposited in the bank account of the West Bengal unit of the BJP, much before Prime Minister Narendra Modi made the announcement of demonetisation, prompting to speculations that BJP leaders were aware of the move.
Senior Lawyer, Prashant Bhushan also tweeted out a document as evidence.

For the last three days, long queues outside banks and ATMs have been reported from all parts of the country as people scrambled to exchange old currency notes. Most of the banks do not have Rs 100 currency and are giving Rs 2000 currency, causing huge inconvenience to people.
Also Read:

With demonetisation of currency notes, BJP has created an emergency-like situation: Mayawati
This is just 1 Acct of WB BJP in Central Ave,Kolkata branch of Indian Bank where cash dep of 1Cr is made in 1K notes,hours before PM speech! pic.twitter.com/tQ7M1RO8fm

— Prashant Bhushan (@pbhushan1) November 11, 2016
Kejriwal also questioned the logic behind the introduction of Rs 2000 notes saying it will fan corruption and the black money economy instead of containing it and that demonetisation has hit the common men hard.
Also Read: Demonetisation of Rs 500 & 1000 notes is a hastily executed move: Shashi Tharoor
In a series of tweets, Kejriwal also took pot shots at an advertisement of Mobile payments firm 'Paytm' that featured PM Modi's image, saying the company was the biggest beneficiary of the move.
Meanwhile, facing a shortage of cash since the announcement, people in across the country are rushing to ATM counters, only to witness serpentine queues.
The use of old 500 and 1,000 rupee notes for paying household utility bills, fuel, taxes and fees as well as purchase from co-operative stores has also been extended till 14 November.
Read More: Nothing has changed, except for the flow of black money: Venkaiah Naidu on demonetisation
--With Agency inputs