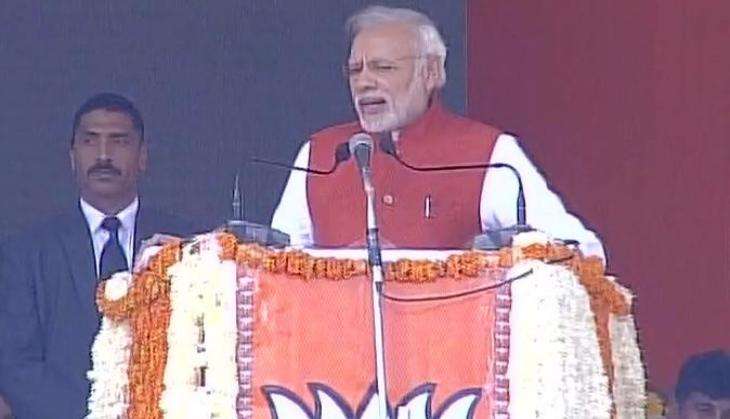 Prime Minsiter Narendra Modi addresses Parivartan rally in Kanpur
Prime Minister Narendra Modi addressed the Parivartan Rally in Kanpur on 19 December after which he lay the foundation stone for the first ever "Indian Institute of Skills" at Kanpur, Uttar Pradesh.
The institute has been opened in partnership with Union Ministry of Skill Development and Entrepreneurship and the Institute of Technical Education, Singapore. Inspired by Singapore's model of training, the institute was conceptualised during PM's visit to the country. The idea behind the institute is to make India the skill capital of the world by empowering its youth to be more employable and self-sustainable.
The Ministry has decided to set up six such institutes.
Here are the highlight's of PM Modi's speech at today's rally:
- History will not remember the PM who brought this revolutionary change to eradicate corruption but will praise the people.
- I ask journalists, writers, social media users, intellectuals to tell the world how India came forward to fight corruption.
-Shopkeepers who are using debit/credit cards to receive payments will also receive rewards in thousands of rupees in a lucky draw scheme.
-Have introduced a bumper draw scheme for costumers who have used electronic transactions after the announcement of the demonetisation policy.
-Now we are using technology to track those who have stashed black money. We are being vigilant and raids are being conducted across the country.
-Prime minister Narendra Modi promotes cashless economy, says "mobile phone is your wallet."
-Says that Uttar Pradesh is tired of goondaraaj.
-More than 35 lakh people below poverty line have received an LPG connection and LPG cylinder.
-I have requested for a party meet for a discussion on how political parties get funds.
-It is our duty to work like soldiers towards making India a developed country
-We have to make India free of corruption and black money.
-The country will grow at a faster rate only when the youth has ample of work opportunities - India is lucky to have more than 60% under the age of 35.
-Our youth can show the world their strength only when they have the talent and skill.
-Many initiatives have been taken up by the government to empower the youth, especially in Uttar Pradesh.
PM Modi's speech ends and he proceeds to lay the foundation stone of Indian Institute of Skills in Kanpur.
Also read: Rahul Gandhi targets PM Modi on demonetisation in Jaunpur rally