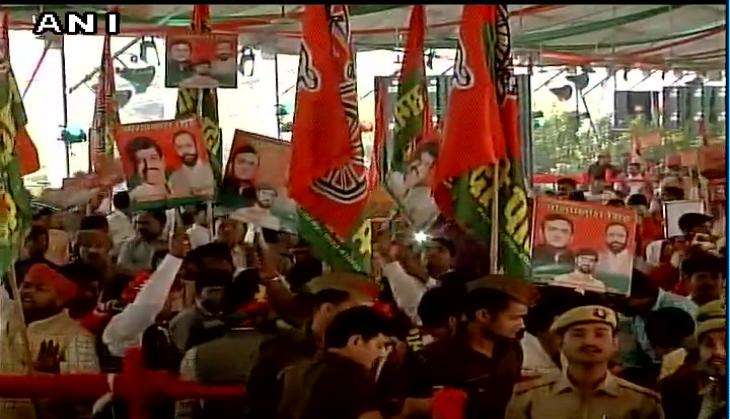 The feud within the Yadav clan reared its head at the Samajwadi Party's silver jubilee celebrations in Lucknow on 5 November.
Speaking at the event, RJD chief Lalu Prasad Yadav said that he would work with the Samajwadi Party to keep the BJP from coming to power in the state,
Live updates:
2:10 pm: we salute our soldiers, says SP supremo Mulayam Singh Yadav as he arrives at the stage
2:00 pm: Ban on NDTV reminds of emergency days; Sharad Yadav calls for removal of BJP govt from Centre in 2019
1:55 pm: Challenges are overcome by unity, says JD(U) leader Sharad Yadav while addressing the gathering

1:20 pm: No dispute between Akhilesh Yadav and uncle Shivpal Yadav: Lalu
1:15 pm: What is the use of a 56 inch chest when you are not able to control the situation in J&K for so many days?: Lalu Yadav
1:00 pm: Aapne mujhe talwar bhent ki hai, aur talwar doge toh chalayenge hi: UP CM Akhilesh Yadav
12: 50 pm: In last few years UP govt has set an example for rest of the states, be it in construction of roads or anything else: Akhilesh Yadav
12:44 pm: Netaji (Mulayam Singh Yadav) ne ye party bahut sangharsh aur khoon paseena baha ke banai hai, mein unhe dhanyavaad karta hu: UP CM Akhilesh Yadav
Also Read: Will help Samajwadi Party chase BJP away from UP: Lalu Prasad Yadav

12:42 pm: I assure you that we will come back to power and not let communal forces succeed: UP CM Akhilesh Yadav
12:40 pm: UP CM Akhilesh Yadav speaking at the Samajwadi Party's Silver Jubilee celebrations in Lucknow
12:25 pm: Kitna bhi mera apmaan kar lena, kitni bhi baar mujhe barkhast kar dena, main jaanta hoon ki maine accha kaam kia hai: Shivpal Yadav
12: 11 pm: Hum jante hain hum logon ke beech ghuspetiye ghus gaye hain;jo aise mahoul paida karte hain,unse savdhaan rehne ki zarurat hai: Shivpal Yadav
12:09 pm: Khoon mangoge toh khoon bhi de denge, CM kabhi nhi banana; kitna bhi apmaan karlo, main jaanta hoon accha kaam kia hai: Shivpal Yadav
11:58 am: I want to tell SP workers "jitna tyag lena chaho le lo; mujhe mukhya mantri nahi banana hai": Shivpal Yadav
11:50 am: It is because of Netaji's struggle and the risks he took that SP was able to form govt in UP not once but thrice: Shivpal Yadav
#WATCH: Samajwadi Party Rajat Jayanti program underway in Lucknow, Uttar Pradesh. pic.twitter.com/Jp5drdrRYj

— ANI UP (@ANINewsUP) November 5, 2016
UP CM Akhilesh Yadav and Senior JDU leader Sharad Yadav at Samajwadi Party Rajat Jayanti program in Lucknow pic.twitter.com/Bh1IrJcV6S

— ANI UP (@ANINewsUP) November 5, 2016
11:15 am: Jaise Bihar se BJP ko khadeda tha usi tarah se Uttar Pradesh se bhi khadena hai: Lalu Yadav
11:12 am: We have come for SP Silver Jubilee function, no talk of alliance as of now: HD Deve Gowda in Lucknow.
11:09 am: Mahagathbandhan ko lekar abhi koi baat nahi huyi hai, aage kya hoga dekhte hain
10:35 am: Shivpal urges "secular" parties to unite against BJP
Former PM HD Deve Gowda, RJD chief Lalu Prasd Yadav and senior JDU leader Sharad Yadav among other leaders arrived in Lucknow on 4 November to attend Samajwadi Party Rajat Jayanti Programme.
Uttar Pradesh: Former PM HD Deve Gowda reaches Lucknow to attend Samajwadi Party Rajat Jayanti Programme tomorrow. pic.twitter.com/cA25MIlCB1

— ANI UP (@ANINewsUP) November 4, 2016
Lucknow: RJD Chief Lalu Prasad Yadav reaches Lucknow to attend Samajwadi party Rajat Jayanti programme tomorrow pic.twitter.com/5786zNftgn

— ANI UP (@ANINewsUP) November 4, 2016
Uttar Pradesh: Senior JDU leader Sharad Yadav reaches Lucknow to attend Samajwadi party Rajat Jayanti programme tomorrow. pic.twitter.com/obUIpEdI69

— ANI UP (@ANINewsUP) November 4, 2016
Lucknow: Samajwadi Party Rajat Jayanti Programme to begin shortly pic.twitter.com/BTX1FsUU5X

— ANI UP (@ANINewsUP) November 5, 2016