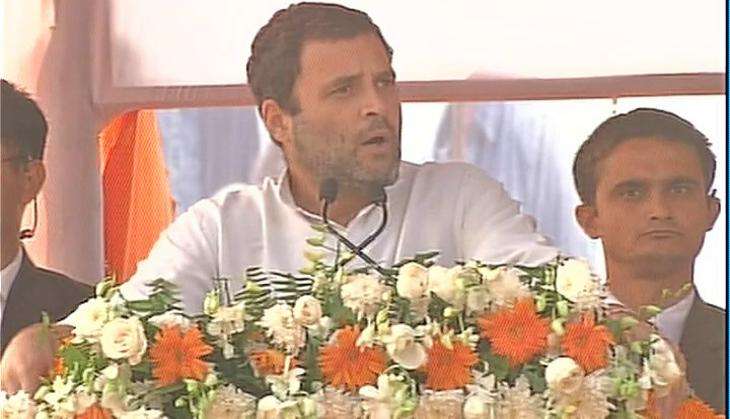 Congress vice president Rahul Gandhi, on 19 December, targetted Prime Minister Narendra Modi over demonetisation during his address in Jaunpur, Uttar Pradesh. Rahul Gandhi asserted that Prime Minister Modi's decision to ban high-value currency notes was not against corruption or black money but against farmers and poor people.
Gandhi had earlier referred to demonetisation as "Modi-made disaster".
Here are the live updates of Rahul Gandhi's address:
-Why is the PM running after only 6% of black money, when 94% of the black money is stashed away in foreign banks, real estate and investment in land deals and gold?
-In World War 2, there was a new technique of bombing people. Firebombs were dropped on a city by 200 planes. The city would be burnt to ashes. Modi has fire bombed the poor of the country
-In a cashless economy, 5% commission will go in the pockets of the richest people who are Modiji's friend. This is PM Modi's casheless economy.
-Only 2 paise out of 100 rupees are counterfeit, PM Modi's minister in Rajya Sabha himself said that.
-Narendra Modi ne 99% ghareeb imaandar logon se bina pooche unka khoon nikal diya.
-8 November ke baad Rs 1200 crore ki toffee Modi ji ne Mallya ko di.
-In parivaaron ke log Narendra Modi ji ke saath America, China jaate hain, unke jahaaaz mein baithte hain.
-50 parivaaron ke paas Hindustan ke dhan ka sabse bada bhaag hai, ye Narendra Modi ji ke den hai.
-Maine Modi ji ko kaha kisaan ka karza maaf karo, unhone sawaal ka jawaab nahin diya, ek shabd nahi kaha.
-Ameer logon ka karza maaf karte ho, aap Hindustan ke kisaan ka karza maaf karo.
-The decision made on 8 November was not against black money or corruption, but against farmers, the poor.
-'Murdabad' kattarpanthi bolte hain, RSS ke log bolte hain.
-Modi ji Hindustan ke pradhanmantri hain, unke saath rajnetik ladai hai, lekin 'murdabad' bolna Cong party ka kaam nahin hai.