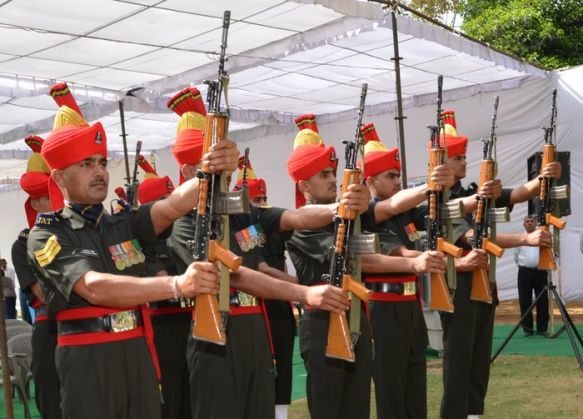 'Vijay Divas' or the 'Victory Day' is observed every year on 26 July to celebrate the successful operation carried out by the Indian Army to push back Pakistani troops and infiltrators after months of intense battle between 3 May 1999 and 26 July 1999.
Often the victory, that came after 500 soldiers laid down their lives, is used to invoke India's military might over Pakistan by the government. However, the verbal appreciation hardly translates into actual welfare of war heroes.
Here are a few examples that prove that the armed forces often get a raw deal.
One Rank One Pension
The army personnel have been fighting to bring back the OROP scheme since 1973 - when it was terminated by the Indira Gandhi Government. Earlier, under this scheme retired army personnel of a particular rank regardless of their date of resignation were given equal pension.
What has further aggravated the situation is that before the elections, BJP had promised to fulfill the demands of the ex-servicemen, but has failed to implement OROP after coming to power.
Armed forces veterans have been protesting at Jantar Mantar, Delhi for more than a month now but government hasn't given any has been taken by the government yet. Social activist Anna Hazare joined the protests on Vijay Divas.
Adarsh Housing Society Scam
The controversy surfaced in the year 2010 following which the then Chief Minister of Maharashtra, Ashok Chavan resigned from his post.
Adarsh housing society was established for the benefits of the widows of Kargil martyrs but politicians and bureaucrats occupied these flats at a cheap price by manipulating the rules and regulations.
Four former chief ministers Ankit Chavan, Vilasrao Deshmukh, Sushilkumar Shinde and Shiajirao Nilangekar Patil were allegedly involved in the scam.
Kargil War Coffin Scam
Immediately after the Kargil War, Indian government ordered a large number of coffins from a US based company Buitron and Baiza.
A Comptroller and Auditor General (CAG) report revealed that there were major irregularities and fraud in the purchase of coffins.
It is believes that the government paid hefty amount of money for the coffins which was thirteen times higher than the original cost. The extra money went to middlemen and politicians who benefited from the whole deal.