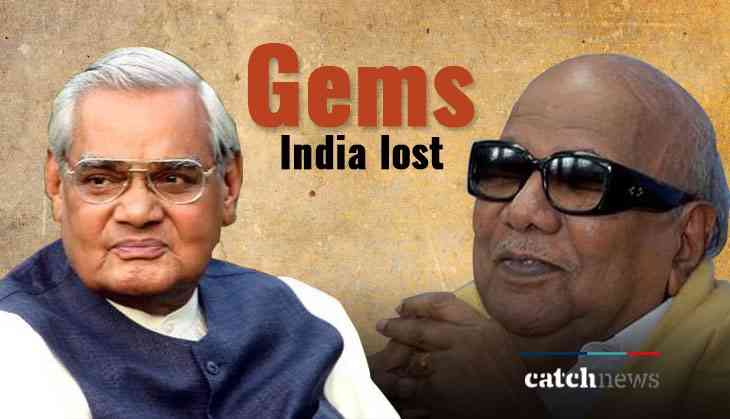 India is shattered by the loss of its 'Ratna' former Prime Minister and veteran leader Atal Bihari Vajpayee. Former Prime Minister Atal Bihari Vajpayee passed away at the age of 93 at AIIMS hospital in Delhi on 16th August. Seven-day mourning across India till August 22 for Former Prime Minister Atal Bihari Vajpayee was announced. The earlier country had also lost it on the e of the popular political leader and DMK chief Karunanidhi, a five-time chief minister of Tamil Nadu. A veteran leader breathes his last at Kauvery hospital after a prolonged illness.
Sadly, Within a month the country has lost several iconic leader and personality that has left people in a shock.
Here is the list of the gems, who are not anymore with us.
August 1st:
Bhishma Narain Singh, 85, Indian politician, Governor of Assam (1984–1989) and Tamil Nadu (1991–1993).
Umbayee, 66, Ian ndian ghazal singer, cancer.
August 6th:
R. K. Dhawan, 81, Indian politician.
August 7th :
M. Karunanidhi, 94, Indian politician and writer, Chief Minister of Tamil Nadu
August 10th:
Anant Bajaj, 41, an Indian businessman, died due to heart attack
August 13th :
Somnath Chatterjee, 89, Indian politician, Speaker of the Lok Sabha (2004–2009), multiple organ failure.
August 14th:
Balram Das Tandon, 90, Indian politician, Governor of Chhattisgarh.
Hakam Singh, 64, Indian race walker, Asian Games champion
Chemmanam Chacko, 92, Indian poet.
August 15th:
Ajit Wadekar, 77, Indian cricketer
August 16th:
Atal Bihari Vajpayee, 93, Indian politician, Prime Minister (1996, 1998–2004), Minister of External Affairs (1977–1979)
August 17th:
Hardayal Singh, 90, Indian field hockey player, Olympic champion
August 18th:
Chennupati Vidya, 84, Indian politician, MP for Vijayawada
August 19th:
Sujata Kumar, 53, Indian actress
August 22nd:
Gurudas Kamat, 63, Indian politician
Debu Bose, 75, Indian actor
August 23rd:
Kuldip Nayar, 95, Indian journalist (The Statesman), human rights activist and politician.
Also read: Fodder Scam: Lalu Prasad Yadav asked to return to jail by August 30; Jharkhand court refuses to extend his parole