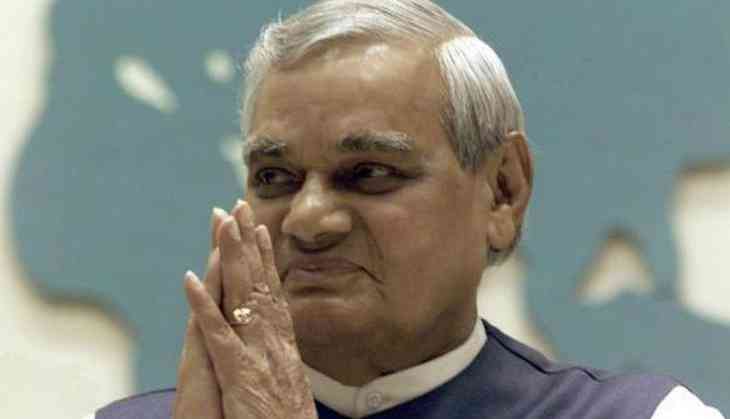 The 'Bharat Ratna' awardee and former Prime Minister of India, Atal Bihari Vajpayee was cremated with full state of honours. The ashes of Vajpayee will be immersed in 42 holy rivers of various districts of Uttar Pradesh. According to an official statement issued here on Friday, the government spokesperson said that since Vajpayee was closely related to Uttar Pradesh, his ashes would be immersed in all holy rivers. 'Atal Smarak to be build in Uttar Pradesh, claims media reports.
The spokesperson also provided the full list of the rivers name in which Vajpayee's ashes would be immersed. The rivers are Yamuna in Agra, Ganga in Allahabad, Varuna in Varanasi, Gomti in Lucknow, Ghaghra and Tons in Ambedkar Nagar, Ghaghra, Rapti, Rohin, Aami in Gorakhpur, Sai in Amethi, Sot in Amroha, Sindhu in Auraiyya, Ram Ganga in Badaun, Hindon and Kali Nadi in Baghpat, Saryu, Karnali and Suheli in Bahraich, Gandak in Ballia, Ken in Banda, Ram Ganga and Aril in Bareilly, Kuano and Manorama in Basti, Isaan in Etah and Chanbal in Etawah.
Another than thses rivers, the ashes will also be immersed in Dhasaan in Hamirpur, Karban in Hathras, Sindhu and Betwa in Jalaun, Budhi Gandak in Kushinagar, Sharda in Lakhimpur, Jamni and Arind in Mainpuri, Bakulahi in Rae Bareli and Rehand and Kanha in Sonebhadra.
The Uttar Pradesh was former PM's 'karmabhoomi' — the land of action — and its people will get an opportunity to be part of his final journey, that is why his ashes will be immersed here, said UP CM Yogi Adityanath.
According to BJP sources, special events will be organised in all districts where immersion will take place and top party leaders from these regions will take part in the programmes.
Also read: Atal Bihari Vajpayee Death: PM Modi's tribute to former PM surprised everyone; people said, 'no PM did this before'