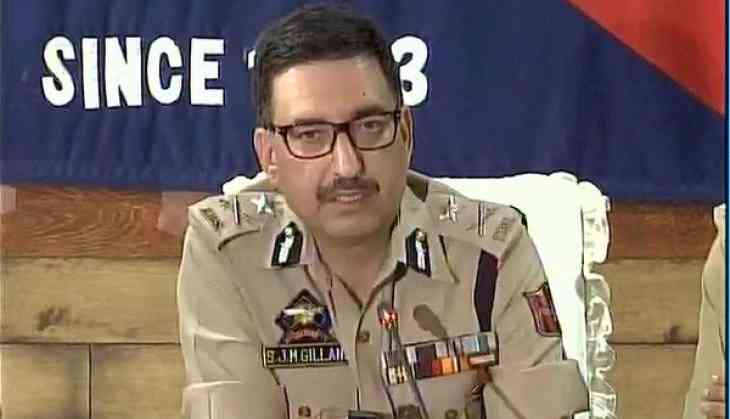 Kashmir Inspector General of Police Syed Javaid Mujtaba Gillani on 8 May said the terrorists of Laskar-e-Taiba (LeT) and Hizbul Mujahideen were involved in the recent bank loot activities in the valley.
"The investigation revealed terrorists of Laskar-e-Taiba and Hizbul Mujahideen are involved in recent cases of bank loot in south Kashmir. We are trying to arrest them or neutralize them as soon as possible," Gillani said in a press briefing here.
Further commenting on the unrest in the local school and colleges, Gillani said that the situation is under control.
"The unrest in the Kashmir valley is under control. Except few places, the schools are working absolutely fine in every places. More than 95 percent colleges have normal attendance," he said.
He added that the students are instigated by outside elements to pelt stones and are given money in return of that to carry out the act.
"We have even arrested few people in Handwara incident. We have appealed to the parent's number of time to counsel the student," he said.
Gillani even revealed that there are around 200 active terrorists present right now in the valley out of which 110 are local terrorists.
Last week, gunmen looted two banks, in separate incidents, in South Kashmir's Pulwama district.
In the first case of robbery, a few masked gunmen barged into the Ellaquai Dehati Bank in Wahibug village of Jammu and Kashmir's Pulwama district and looted Rs. five lakh.
The second incident took place at the Nehama branch of the Jammu and Kashmir Bank.
Two masked gunmen, earlier on May 2 looted Rs. 65,000 from the same bank.
A few days back, militants had opened fire at a cash delivery van of a bank in Kulgam, killing five police constables and two bank officials.
The terrorists attacked the van when it was returning after dispensing cash to local bank branches.
On April 28, alert security forces foiled a bid by two militants to loot a branch of the Jammu and Kashmir Bank (J-K Bank). One militant was arrested, while the other managed to flee.
The incident happened when the bank's Mehandi Kadal branch employees had gone to offer Friday prayers and the branch appeared to be closed.
-ANI