Raza Naqvi
| Updated on: 13 February 2017, 7:40 IST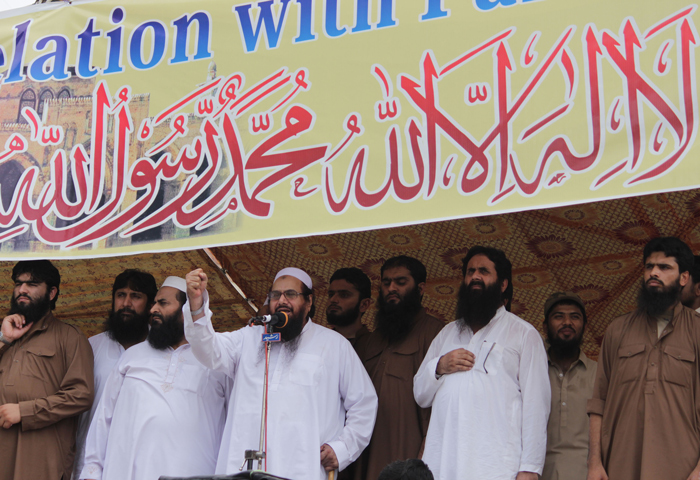 In a fresh move, Pakistan on 2 November, announced a ban on media coverage of terror groups like Lashkar-e-Taiba (LeT), Jamaat-ud-Dawa (JuD) and Falah-e-Insaniat Foundation (FIF) as a part of a wider crackdown on terror.
Pakistan Electronic Media Regulatory Authority (PEMRA) issued a notification to all satellite TV channels and radio stations about the ban on coverage of LeT, JuD and FIF under United Nations restrictions.
Despite Pakistan's recent acknowledgment of JuD as a wing of LeT, the fact that Hafiz Saeed was involved and calling the shots at the infamous terror outfits is known across the globe.
Though the Indian government had been consistently persuading Pakistan to shut down the terrorist machinery on its turf, directed against India, Pakistan never paid attention towards it. The latest move to ban coverage of the three outfits is linked to Prime Minister Nawaz Sharif's assurance to US President Barack Obama last month to take 'effective action' against UN-designated terrorist individuals and entities, including the LeT and its affiliates.
Didn't Pakistan know Hafiz Saeed was one of the co-founders of LeT?
The LeT - currently one of the largest and most active terror outfit in South Asia - mainly operated from Pakistan. It was founded in 1987 by Hafiz Saeed, Zafar Iqbal and Abdullah Azam in Afghanistan, with the help and funding of Osama Bin Laden.
With its headquarters in Muridke, near Lahore, the outfit operates several training camps in Pakistan-occupied Kashmir.
In 2001, it was the LeT that attacked the Indian Parliament and later took the shape of an international terror organisation. It was banned by the UK and US in December 2001, and by Pakistan in 2002.
After ban on LeT, JuD comes into scene in form of charitable organisation
After the LeT was banned, Saeed continued his 'jihadi' activities through Jamaat-ud-Dawa - a 'charitable' organisation.
JuD was labelled as an Islamic charity organisation active in Pakistan and PoK. However, in the garb of this charity outfit it collected funds for training and recruiting 'jihadis' in several PoK camps.
Saeed was the 'amir' (chief) of the JuD and was allegedly supported by Pakistan's Inter-Services Intelligence (ISI) and Punjab (Pakistan) government.
JuD continued its militant activities in India, including Jammu and Kashmir unabated. In 2008, a group of ten JuD militants had attacked Mumbai, killing of over 160 people and creating massive destruction.
JuD was banned by the US and United Nations in 2008. It has assets worth over Rs 400 crore. It is alleged that the JuD gets most of its money through smuggling of arms and narcotics and donations.
In 2013, even the Punjab (Pakistan) government had given a grant of Rs 60 crore to JuD for the organisation's 'charitable work.' Meanwhile in 2014, the US had included JuD in the list of designated terror organisations.
Since the JuD and LeT were under the US scanner for carrying out militant activities after the 26/11 Mumbai attacks, Hafiz Saeed has been carrying a US reward of $10 million since 2012.
LeT & JuD banned, Saeed floats in Falah-e-Insaniat Foundation
After tremendous pressure over the LeT and JuD with US imposing sanctions on JuD, Falah-e-In saniat foundation was formed under the patronage of Saeed in 2009.
FIF claimed itself as the country's most efficient and diverse rescue and relief organisation - providing aid to people in major natural disasters and calamities that have struck Pakistan and neighbouring countries.
However, with all the 'charitable work' that FIF has done, the fact cannot be denied that it has links with the LeT and JuD.
How FIF is linked to LeT and JuD?
FIF's senior officials have had affiliations with LeT and JuD in the past; FIF's Chairman Hafiz Abdul Rauf held senior positions in the LeT and Mian Abdullah, senior member of the FIF, was ex-director (Finance) of the LeT.
Apart from Rauf and Abdullah, FIF's Mohammad Naushad Alam Khan was a key financial facilitator of the LeT and JuD and Hafiz Khalid Waheed is the son-in-law of Hafiz Saeed and was the public co-ordinator of the JuD.
After knowing FIF's link with the LeT and JuD, the US in 2014, designated it as a foreign terrorist organisation and put its leaders including Rauf, Abdullah and Khan in the list of specially designated global terrorists.
Will banning media coverage help?
Though the Pakistan government has banned the media coverage of JuD, LeT and FIF, till the time Hafiz Saeed enjoys country's and Punjab (Pakistan) government's sustained backing, it is very unlikely to yield any significant result in anti-Indian and anti-US activities.