A day after Prime Minister Narendra Modi hit out at self-styled cow vigilantes, Rashtriya Janata Dal (RJD) chief Lalu Prasad Yadav took to Twitter to take credit for the PM's tough stance.
On 4 August, Lalu tweeted, "Gau-Maiya dudh deti hai, vote nahi. Par Enko Lagta hai ki Gau-Mata vote deti hai. Gai kabhi pali nahin, Jankari kaise ho? (Cow gives milk, not votes. But they think cows give votes. They have never bred cows, what do they know?)"
गौ-मैया दूध देती है, वोट नहीं। पर इनको लगता है कि गौमाता वोट देती है। गाय कभी पाली नहीं, जानकारी कैसे हो? https://t.co/BcGYZ62I9G

— Lalu Prasad Yadav (@laluprasadrjd) August 5, 2016
PM Modi came down heavily on self-proclaimed cow vigilantes over the weekend. "These people are hell bent of destroying the society and are disturbed by the unity of India. These people, in the name of gau rakhsha, are trying to create conflict in the society," he said in Medak, Telangana. "Beware of nakli gau rakshak (fake cow vigilantes)," he said.
"Even a true gau rakshak should be vigilant so that these fake people do not spread tension in the society," he added.
Lalu took to Twitter yet again on 7 August. He tweeted:
यह सत्य की विजय और पाखंड की पराजय है। लगता है मेरे द्वारा दो दिन पहले कही गई बात मोदी जी को अच्छे से समझ आ गयी कि गाय दूध देती है, वोट नहीं

— Lalu Prasad Yadav (@laluprasadrjd) August 7, 2016
Lalu said that Modi's views on 'gau-rakshaks' is a victory of truth and defeat of 'pakhand' (hypocrisy).
The RJD chief also took to Twitter and Facebook to share a poster of a poll-related advertisement that functionaries of the BJP used ahead of the Assembly polls in Bihar.
Yadav also predicted that the self-styled cow vigilantes would also use the Ganga to their advantage.
और समझ भी क्यों ना आये,गौमाता इनकी सरकार बनवाना तो दुर,बनी बनाई सरकारों को हिला रही है।
ये हमारी जीत और उनकी हार है pic.twitter.com/uc2tLCuq4p

— Lalu Prasad Yadav (@laluprasadrjd) August 7, 2016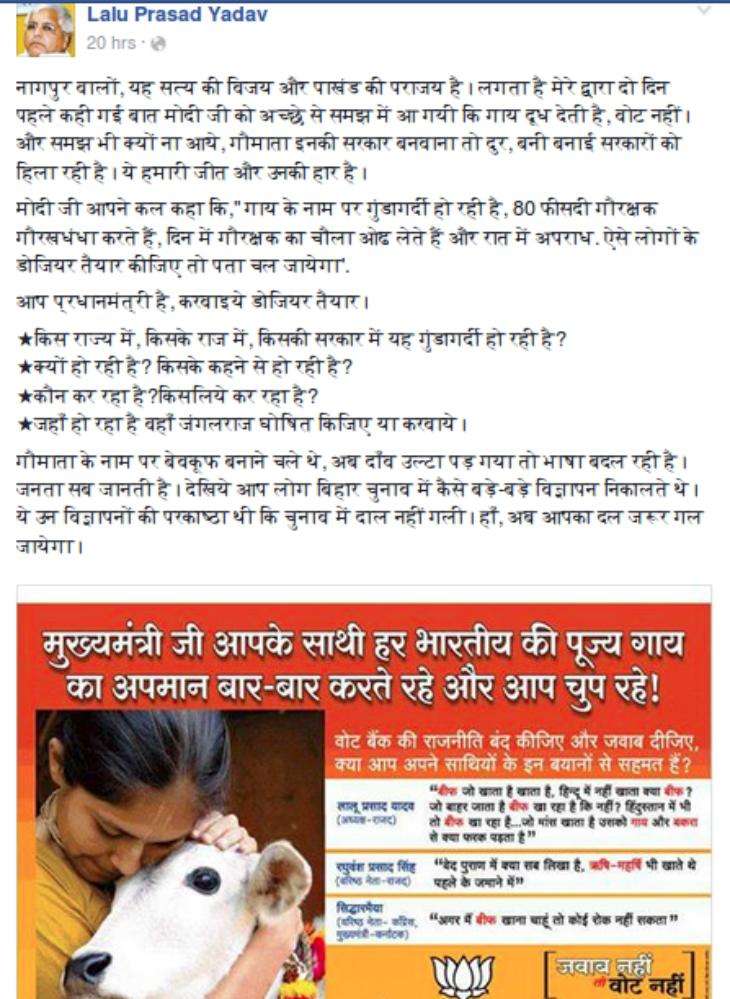 Photo: Facebook/@Lalu Prasad Yadav