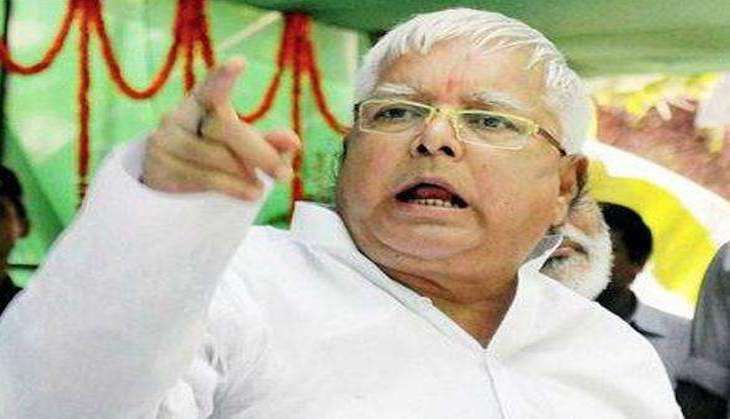 The RJD chief Lalu Prasad has written an open letter to Prime Minister Narendra Modi over the Dalit incident in Una. Cautioning the RSS and BJP, Lalu warns them of 'devastating consequences' if the so-called saffron brigade tries to impose their 'poisonous' politics on Dalits and other backward classes.
Here's the full text of the letter:
I would humbly like to draw your attention to the unfortunate incident that occurred in Una, 360 kilometres from Ahmedabad, the capital of your home state Gujarat. While speaking on the issue in the Parliament, Union Home Minister Rajnath Singh said he was pained at this episode.
Yes, I am talking about the severe beating of four Dalit youths who were employed in the leather trade. They were flogged publicly for skinning dead cows. Violent groups are mushrooming everywhere in the country in the name of serving and protecting cows. It is you and the RSS that must share the blame for this raging fire.
Brazen and inflammatory speeches were made during Lok Sabha polls and Bihar state elections against the beef trade. It is the result of this divisive electoral strategy that a farmer is afraid of even loading cattle into vehicles. One cannot tell when the self-appointed protectors of cows might attack or even kill.
You polarised communities and sowed poisonous seeds to reap the harvest of votes. You were successful in realising your ambition. But, the venom you had inseminated is eating into the peace and harmony in the form of caste and communal tensions.
I am compelled to inform the Prime Minister of this country with utmost regret that he was the one to kindle this fire.
The cow-breeders, farmers, Dalits, Adivasis, and minorities are burning in this inferno. Only you, your party and the RSS, the mother of your intolerant ideology, are responsible for this situation. I would stand guilty in front of the cow-keeper within me if I fail to put you in the dock today.
The national, as well as international media, has known me as a public servant connected to the poor, who reared cows even in Delhi's Lutyens Zone bungalow and official CM residence. The casteist elements branded me as an uncouth cowhand for keeping cows at my official bungalow in Delhi.
However, I don't rear cows for the sake of showing-off. I have nursed cows from the time I was nothing and continue to do so today. I have more cows in my house and cowshed than those bred by all of BJP's leaders put together.
Those who divide people in the name of cows can have little to do with serving them. You have as many as 78 ministers in your jumbo cabinet. All of them are housed in lavish government bungalows in Delhi's Lutyens' Zone. How many of them care to keep cows in these sprawling houses? One can assume many of them would be fond of dogs. Most of them would despise rearing cows as it is against their class consciousness.
You had given long lectures and published advertisements worth crores of rupees flaunting your love for cows. Modi ji, make a rule that each of your ministers would keep cows in his or her bungalow if you so revere the bovine animal. Make it mandatory for your ministers to feed, bathe, and nurse cows with their own hands. It should be necessary for them to perform then last rites when the cattle is dead so that your workers don't attack Dalits or other backward classes while removing dead cows from the bungalows of your ministers.
The Una episode is not an isolated incident. Such madness raises its head at regular intervals in some part of the country and you continue to look the other way. Poor people pay for your vote bank politics with their life, income, happiness, and hopes. The Manuvadis only use the slogan of cow-protection to reclaim their unbridled power, which is slowly slipping away from their hands. It is a tool in their hands that they use to put Dalits and backward classes in their place.
Cows roam around streets feeding on poisonous garbage. The so-called cow-lovers don't bother to feed them two rotis. These cows die out of hunger, thirst, heat, and sickness, but few bother to respond to their plight. But, the whole village, and BJP workers from even the neighbouring areas gather at one call, when it comes to lynching some Akhlaq for allegedly storing beef. It is symptomatic of the way you conduct your cow politics.
The Sangh and BJP would be well-advised to stop this drama. The country is not ready to tolerate that the Prime Minister stays silent for a week when the 'son of the motherland' Rohith Vemula is institutionally killed.
Dalits and backward classes of the country refuse to accept the code of conduct imposed by the RSS. The Dalits of Gujarat have reaffirmed their importance through protests following the Una incident. They have shown a mirror to the society and vented out the bitterness simmering inside them.
Mr Prime Minister, stop the attempts to impose Brahminical and Manuvadi mentality on Dalits, backward classes and Adivasis from the back door. Otherwise, the result would be devastating. The majority of the country would never allow the reinstatement of the centuries-old social order that was based on exploitation. I have only one word of caution for RSS leaders like Mohan Bhagwat, who believe in poisonous politics-- Wake up to the reality or pack your clan!