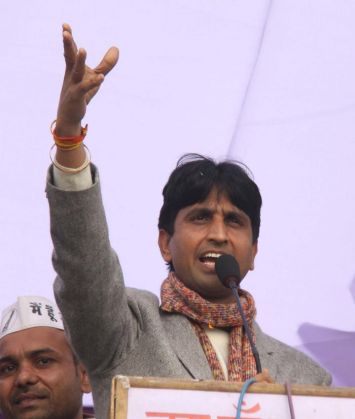 In yet another blow to the Arvind Kejriwal-led AAP government, the Delhi Police have received a complaint of molestation against party leader Kumar Vishwas.The woman had approached the Delhi Commission for Women (DCW) in May 2015, requesting the panel to summon the AAP leader and urge him to refute the alleged relationship between them.
Now she has filed a molestation and harassment complaint against him.
What is the complaint?
The woman in her complaint addressed to the Chanakyapuri Police Station, has alleged that at least four times in 2014 and 2015, Vishwas tried to physically exploit her and touched her inappropriately.
The woman alleged "repeated instances of physical and verbal exploitation" by Vishwas in Delhi and Amethi. She also alleged that a rumour, which was being circulated by certain AAP workers, has ruined her marriage and family life.
"When AAP workers spread rumours about Vishwas and me, I tried to stop them with the help of DCW," she said. "However, when Vishwas did not cooperate, I could not see any way to save my house. Since my marriage and family are already ruined, I have decided to come out in the open with all the details."