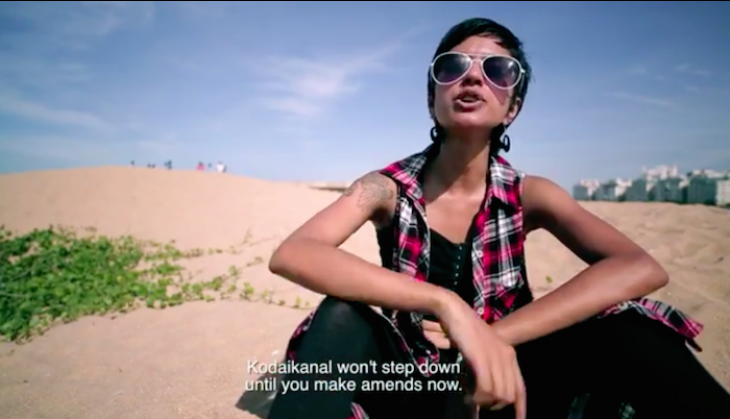 The new rap video released by Jhatkaa, Kodaikanal Won't, has propelled the mercury victim's fight against Hindustan Unilever (HUL) on the internet. Set to Nicki Minaj's Anaconda, the video has been watched more than 4 lakh times in less that 3 days.
Written and sung by Chennai-born Sofia Ashraf, who famously rapped 'Don't work for Dow' in a Burkha, the rap is an unabashed attack on HUL for its refusal to take responsibility for the damage its thermometer plant is causing in Kodaikanal, Tamil Nadu.
The video is produced by the Vettiver Collective (VC) - and NGO working with the mercury victims since 2001. The collective played a fundamental part in the shutting down of the thermometer plant. Catch News spoke to VC's Nityananda Jayaraman, about the video and the fight against Unilever.
What is the Kodaikanal disaster?
HUL had acquired a thermometer plant in Kodaikanal in 1987. In 2001, residents found 7.4 tonnes of mercury dumped in the open, and protested to ensure the closure of the plant. By 2003, HUL had moved 289 tons of waste material to a recycling facility in Pennsylvania.
However, studies by the Department of Atomic Energy show high level of mercury emissions in the area even today. In the last 14 years, 45 workers have died and more than 600 have been poisoned. Fish from the Kodaikanal lake have been rendered unfit; the Shola forests are exposed to at least 300 kg of emissions; and the air in Kodaikanal is exposed to an additional 70 kg of discharge.
Read: 45 dead, 600 poisoned: HUL finally responds to mercury poisoning victims
Innumerable protests by workers have fell on deaf ears. Year after year the company has denied responsibility for the damage it has been continuously causing to the 'princess of hills'.
The viral video attack
This video is Vettiver's way to ensure that HUL can no longer ignore them. "The company has an advertisement budget of $8 million and a strong social media presence. Our movement has found little support in mainstream media, while HUL has managed to project itself as an ethical, responsible and environmentally conscious organisation. We realise it is important to hit them on a medium where they can't ignore us," says Jayaraman.
The idea was drawn from its annual event Justice Rocks. For this, young artists are exposed to social issues for over a month, and then encouraged to compose music, plays, or artworks around it. "What is more interesting about Justice Rocks is that unlike a regular event with a tittle sponsor, we select an 'unsponsor' to make fun of. We have done things like 'Don't Work for Dirty Dow' on the Bhopal Gas Tragedy unsponsored by Union Carbide and Dow Chemicals and 'Unclear Energy' on the Kudankulam unsponsored by Dr. APJ Abdul Kalam."
Artists who participate in the event get to perform their own work along with the project they developed for Vettiver. They get a platform and the collective gets an audience to spread its message.
The petition adjuring Paul Polman, CEO, Unilever, to clean up Kodaikanal's mercury pollution and compensate the workers.
Justice Rocks was also Sofia's first platform in 2009, and she has been associated with the collective since then. Along with Rathindran R Prasad, who shot and edited the video, the entire rap was produced in under Rs 15,000. "This video is uncorporate. It shows that we don't need corporates to reach an audience. We locally raised the money to produce this video in three days. Our volunteers acted for free. The rap was written, recorded and shot professionally without the artists charging any money."
Jayaraman feels that HUL has made some efforts in the last year or so, however it is not enough. "HUL claims that they have met the workers 16 times. But the fact that nothing has come out of these 16 meetings shows that what they are offering is peanuts. The workers don't need their charity. HUL wants to settle the matter speedily, but its senior management needs to find the heart to compensate for the damages."