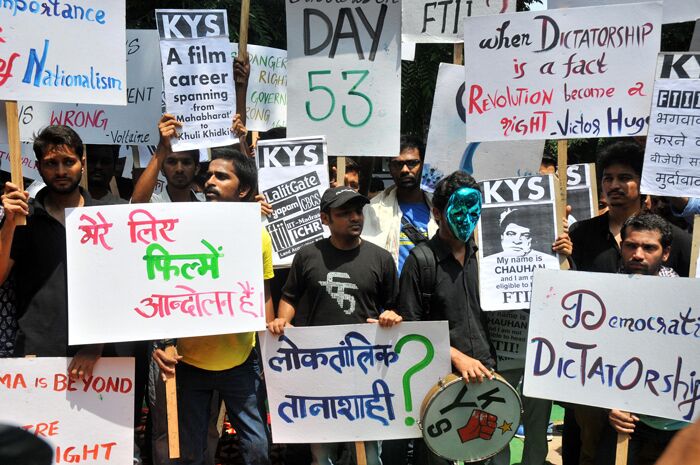 The three-member committee formed to look into the student-government standoff at Film and Television Institution has blamed students and faculty members for the current situation on campus in its report, which it submitted to the Information and Broadcasting ministry.
The report justified the crackdown of police on students after director Prashant Pathrabe filed an FIR against students.
"If one views the video recordings of these incidents, one can understand the amount of mental trauma the director (Pathrabe) would have gone through. Hence, the director was well within his right to call the police and lodge FIRs. Although everyone demanded withdrawal of FIRs the matter at present is before the court of law and the law will take its own course," the report says.
Even on the issue of project assessment of the 2008 batch, the committee held students responsible and said, "Although the students as well as the faculty blame various reasons for the delay for completion of 2008 batch the records available clearly indicate there was no dearth of facilities for completion of the project, mainly delayed due to the fact that students were not ready with the scripts."
The committee, in the report, also suggested setting up an 'Academic Discipline Committee' involving the director and the faculty to maintain academic decorum in the institute.
The committee was led by SM Khan, Registrar of Newspapers of India and included SS Naganathan, Under Secretary (Films) and Anshu Sinha, Director (Films) of the Information and Broadcasting Ministry.