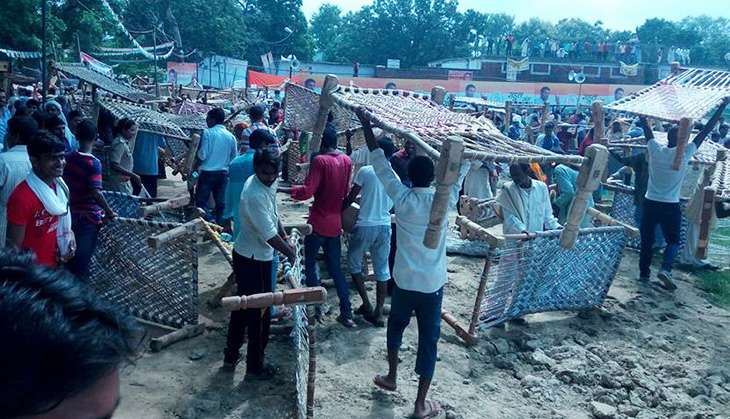 The Congress on 7 September downplayed the BJP's rant at party vice-president Rahul Gandhi's 'Khaat Sabha', and said that this reveals the fear within the saffron party camp.
"The BJP will make such comments and this clearly indicates that they are in fear. The BJP is worried as he (Rahul Gandhi) is getting a good response," Congress general secretary Rajiv Shukla said.
Also read: UP Polls: What is taking the Congress so long to launch Priyanka Gandhi in the state?
Shukla also downplayed the cots controversy while taking potshots at the Samajwadi Party and Bahujan Samaj Party (BSP).
"As far as the people taking cots are concerned, there is nothing new in this as during the elections the people even take away posters. This shows that the people could not even afford cots for themselves in the last 27 years and the Congress has to provide the same," he added.
Also read: This is why '27 saal UP Behaal' yatra failed to do any good for Congress in Kanpur
Launching a blistering attack on the Congress, the BJP had said that the grand old party is trying to launch and re-launch Rahul Gandhi but it is failing miserably in their endeavours.
BJP spokesperson Sambit Patra said the people of Uttar Pradesh have taken the cots more seriously than Rahul Gandhi.
Meanwhile, the Congress leader also informed about Gandhi's upcoming programmes in the politically crucial state.
"Today Rahul ji has a roadshow at Gorakhpur and there is a probability that the entire city may assemble for his programme. Then he will proceed towards the village and have lunch there. In addition, there is also a "Khaat Sabha"," said Shukla.
Also read:Here's why reviving the Congress in UP is an uphill task for Prashant Kishor
"The main objective is debt removal of the farmers as the government has a surplus of two lakh crores due to cheap petrol and diesel. You (the government) should give something to the people instead of keeping all the money with you," he added.
The Congress vice-president's Khaat Sabha in Uttar Pradesh took a dramatic turn on 6 September as the farmers and locals walked away with the cots soon after his interaction was over.
--ANI
Also read: Congress strategist Prashant Kishor faces heat after secret 'Brahmin meeting' in Uttar Pradesh