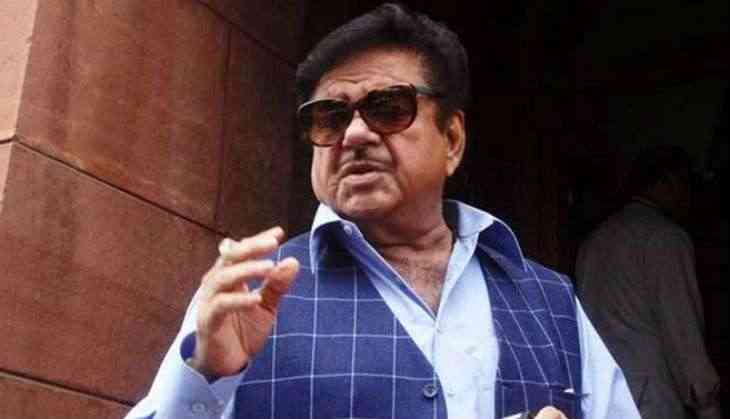 As the #MeToo campaign has not settled its dust on the ground, another controversy has erupted with Bollywood's megastar Shatrughan Sinha's comment wherein he accepted that he is surprised why his name hasn't come in the movement yet.
The actor-turned politician, who said that even after his deeds his name did not come in any controversy and that he is surprised with this fact but this acceptance of the millennium actor has not gone down well with the Twitter users.
Sinha at an event had said, "I really call myself fortunate that in today's times, tamam harkate karne ke bawajood (despite everything that I have done), my name hasn't come out in the #MeToo movement. Hence, I listen to my wife (Poonam Sinha) and often take her as a shield with me so that even if there's nothing, I can show that I am happily married, my life is good."
Sir bolne kuch jaate ho bolte kuch aur ho. Isse acha KHAMOSH ho jao.

— MS (@connectwithms) February 7, 2019
Khamosh! - everyone to Shatrughan Sinha https://t.co/HMMcIug0KI

— Shreemi Verma (@shreemiverma) February 7, 2019
Sinha said that his comment must be taken as a humor and in the times of #MeToo, "there shouldn't be any hesitation to say that behind a successful man's fall is a woman."
He further added, as reported by NDTV, that "Behind the troubles and infamy of successful men, there have been mostly women that I've seen in this movement."
One of Twitter user said, "Sir bolne kuch jaate ho bolte kuch aur ho. Isse acha KHAMOSH ho jao." Another one tweeted, "Were you expecting your name ?"
The #MeToo campaign has brought courage in the Indian women to speak out against the harassment faced at any juncture in their life.
Also read: Shatrughan Sinha does #MeToo politics: Fortunate my name didn't come out says, 'tamam harkate