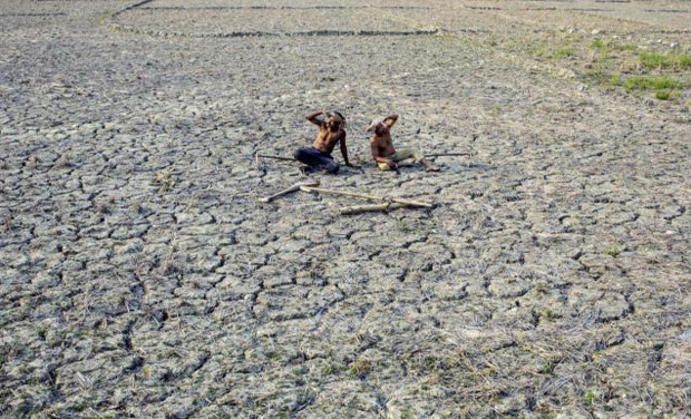 "Is this what 'federalism' is about?" The Supreme Court posed this rhetorical question to Gujarat, Uttar Pradesh and the centre in its judgement on drought relief, the second and third parts of which were pronounced on 13 May.
Swaraj Abhiyan had filed a petition in the court in light of the drought that is affecting at least 33 crore persons in 10 states.
The petition sought the Supreme Court to direct the central and state governments to declare a drought wherever there is one, and then ensure relief including cheap foodgrains are provided to all, MGNREGA is fully implemented, crop loss compensation is paid out, crop loans are restructured, and so on."
The first part of the judgement, dealing with disaster relief provisions, was pronounced on 11 May. The two parts of the judgement pronounced today deal with food security and employment guarantee.
Addressing concerns that the National Food Security Act had not been implemented in many states, the court said it is "rather strange" that even though the Parliament had passed the law, states such as Gujarat and Uttar Pradesh had not implemented it.
Here are the key takeaways from the judgement:
Food Security:
5 kg of food per person per month must be provided at the earliest in all states, particularly in areas affected by drought.
Ration card is not compulsory for availing cheap foodgrains, other ID proofs should be accepted by state governments.
Bihar, Haryana and UP to make eggs or milk or equivalent available in mid-day meals at least three days a week, preferably five. Financial constraint cannot be an excuse.
Mid-day meals to be given in summer vacations in all states within a week.
States to appoint district grievance redressal officer within one month to deal with complaints on non-supply of foodgrains.
Each state establish State Food Commission within 2 months for monitoring and reviewing NFSA.
MGNREGA:
Central govt directed to release funds in timely manner so that workforce is paid wages in time.
Delay in wage payment is a "constitutional breach". Compensation for delay beyond 15 days has to be paid.
Both centre and state governments to make all efforts to encourage people to avail the scheme, success rate of under 50% "nothing to be proud of".
Central Employment Guarantee Council - which are supposed to be set up under law but weren't - should be set up within 60 days. Centre to request states to constitute State equivalent Councils within 45 days.
The court will monitor implementation of these directions and will hear the case on 1 August.
Swaraj Abhiyan has called the order "historic".
Judgements on the other prayers by Swaraj Abhiyan - crop loss compensation, restructuring of crop loans, cattle feed, and water - are awaited.