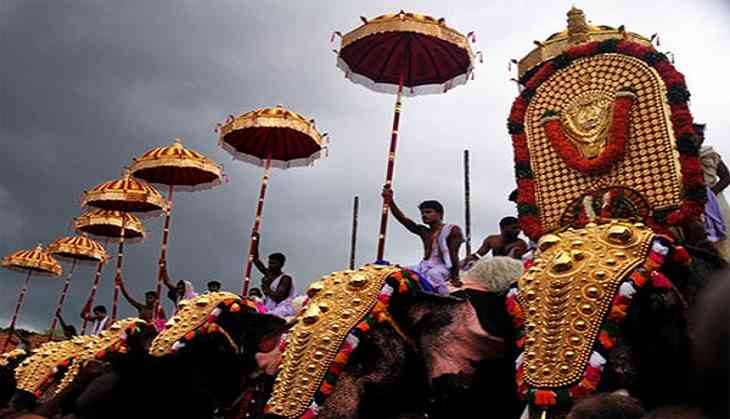 Kerala began the celebrations of one of its most prominent festivals, Thrissur Pooram. Pooram is an annual Hindu festival which is held at the revered Vadakkunnathan temple in Thrissur on the day of Pooram, as per the Malayalam calendar month of Medam.
The celebration includes a huge fleet of caparisoned elephants with their mahouts taking part in an ostentatious procession.
The festival is characterized by reverberating sounds of the crescendo of panchavadyam (ensemble of five different musical instruments) followed by a dazzling fireworks display.
People get to witness a brilliant performance of a traditional art form like ' Puli Kali'.
The view of Thrissur Pooram celebration in Kerala can be one of the most enriching cultural experiences one can embark upon.
The hoisting of the ceremonial flag marks the beginning of the Pooram at the participating temples in Kerala.
Besides, Parmekavu and Thiruvambady, Kanimangalam, Laloor, Ayyanthole, Nethilakkavu, Karamukku, Chembukavu, Choorakottukavu and Panamukkamppilly are the other participating temples.
Pooram of the Medam month is considered to be the most important Pooram of them all.
While fireworks are a major part of this festival, the government had constituted a committee to frame some guidelines regarding fireworks display after the Puttingal Devi temple fire tragedy that took place last year killing more than 100 people.
The committee has passed its verdict permitting the use of fireworks for Thrissur Pooram this year under the conditions that no unauthorized chemicals be used in addition to the chemicals showing in test report for any of fireworks display items.
The Petroleum and Explosives Safety Organisation (PESO) under the Union Commerce Ministry refused to allow the use of dynamite but the use of low decibel firecrackers such as 'amaittu' and 'olappadakam' has been permitted.
-ANI