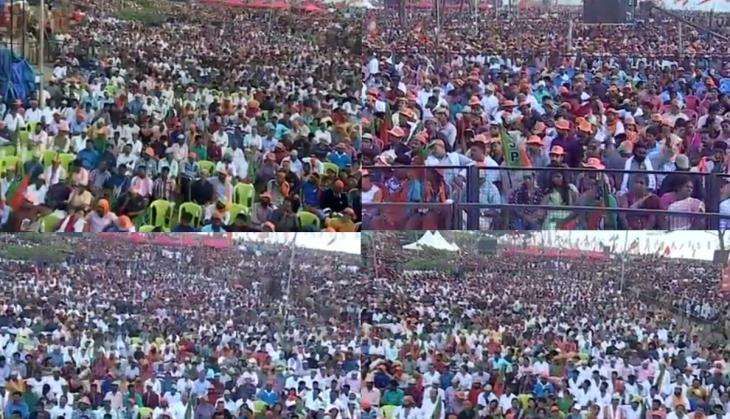 The three-day Bharatiya Janata Party (BJP) Conclave, commenced at the Kozhikode beach in Kerala on 24 September. All eyes are on Prime Minister Narendra Modi's address as this will be his first public address since the deadly terror attack in Uri where 18 Indian soldiers lost their lives.
Prime Minister Modi begins addressing the public meeting on the Kozhikode beach.
Briefing media yesterday evening, BJP General Secretary Ram Madhav said it is an occasion for the party to rededicate itself to Upadhyay's ideals. He also made it clear that the Uri terror attack will be deliberated in the Council.
He will also participate in the National Council meet.
The entire government machinery, including Prime Minister's Office, will function from Kozhikode for two days since many of the Central ministers are participating in the National Council of BJP.
PM Narendra Modi addresses a public meeting in Calicut (Kerala) pic.twitter.com/piftl43DOC

— ANI (@ANI_news) September 24, 2016
Prime Minsiter Narendra Modi begins his speech during at Kozhikode:
-When you think of Kerala, you think of God's Own Country, it has an impression of purity and holiness
-God's own country evokes a spiritual feeling
-I want to thank party workers for the grand welcome
-got second opportunity to visit this land
-When I visited gulf countries recently, I wanted to meet my people from Kerala living there
-The people of Kerala are seen with respect in the country and the world
-Within 50 years BJP has become India's no. 1 party
-There is 1 nation in Asia whose aim is this century does not become Asia's and is associated with terrorism
-Our 18 soldiers had to sacrifice their lives because of terrorists exported by our neighbouring country
-In the last few months, our soldiers have killed 110 terrorists - the highest in recent years
-Leaders of neighbouring country used to say that they will fight for 1000 years, but where are they lost now
-I call upon people of Pakistan to come forward,fight a war on who defeats unemployment, poverty, illiteracy first. Lets see who wins
When we think of Kerala, we think of God's Own Country, it has an impression of purity and holiness: PM Modi in Calicut. pic.twitter.com/zw6VyBZsYr

— ANI (@ANI_news) September 24, 2016
-Thinkers like Mahatma Gandhi,Ram Manohar Lohia,Deendayal Upadhyaya have helped shape our country's politics in the last century
-This Government is devoted to the poor. This commitment draws inspirations from the thoughts of Gandhi Ji & Deen Dayal
-Jan Sangh and BJP Karyakartas from Kerala have seen and faced a lot. Today as well, party isn't in power here but they continue serving
-I want to assure the party karyakartas in Kerala that their sacrifice and hard work will never go in vein
-Before joining electoral politics, I had the good fortune of serving BJP organisation
-Whenever news about terrorism comes, news also comes either the terrorist came from there or like Osama went there after the act
-Pakistan should stop aiming for Kashmir, it should first look at the land they have already captured ie PoK, Gilgit and Balochistan
PM Narendra Modi concludes his address to a public meet in Calicut (Kerala) pic.twitter.com/6WR4GlgBRN

— ANI (@ANI_news) September 24, 2016
-I want to talk to the people of Pakistan today. Want to remind them before 1947 they were part of this soil
-PM Modi concludes his address
Calicut is like pilgrim for us because in 1967 Pt Deen Dayal ji had become the President of Jana Sangh at this holy land: Shri @AmitShah

— BJP (@BJP4India) September 24, 2016
BJP President Amit Shah while addressing the public meeting at Kozikhode:
-Calicut is like pilgrim for us because in 1967 Pt Deen Dayal ji had become the President of Jana Sangh at this holy land
-I want to thank the people of Kerala to vote 15% to our alliance
Muppavarapu Venkaiah Naidu, the Union Minister of Urban Development, Housing and Urban Poverty Alleviation and Information & Broadcasting while addressing the public meeting said:
-The lotus is going to bloom next time in Kerala. I am sure about it: Shri @MVenkaiahNaidu
-The ideology of communism is not acceptable to India because it is not connected to the roots of India
-BJP is the only ideological political party which is committed to the unity & the integrity of the country
-RSS is the greatest patriotic organisation of the county
-We feel proud to say "Bharat Mata Ki Jai'
-Adani and Ambani Congress ki meharbani, they both were born in Congress rule
"Adani and Ambani Congress ki meharbani", they both were born in Congress rule: Union Minister Venkaiah Naidu at a public meet in Calicut pic.twitter.com/9hWVBYHsKN

— ANI (@ANI_news) September 24, 2016
-Situation during Congress rule was one step forward, three steps backward & situation awkward
-Terrorism has no religion, but some people are trying to give it a religious colour so that these crimes can be covered
-Under Congress rule, policy was PM presides and Madam decides, but now it is PM presides & team decides-For Congress, politics is dynasty, but actually it is nasty
-For us, nation first, party second and individual last