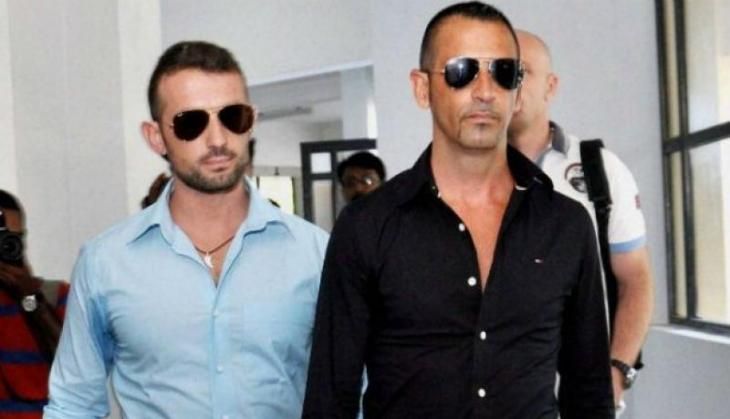 A UN arbitration court has ruled that India should release an Italian marine - who has been detained in Delhi for more than four years for allegedly killing two fishermen off the coast of Kerala.
Referring to the court verdict, the Italian Foreign Minister said that India must allow Salvatore Girone, one of the two Italian marines accused of the crime, to return home.
The two Italian marines were arrested in 2012 for allegedly killing two fishermen that they had mistaken for pirates while they were escorting an oil tanker, the Enrica Lexie.
One of the marines, Massimiliano Latorre returned to Italy on grounds of health problems. India has refused to let the other marine, Salvatore Girone, leave the country.
The case has resulted in strained relations between India and Italy. Last year, the two countries moved the case to the Permanent Court of Arbitration in The Hague. They decided to abide by its decisions.
On the Indian front, The Supreme Court had last week extended the stay of marine Massimiliano Latorre till 30 September
The court was informed by the Centre that international arbitration proceedings in the matter would be completed by December 2018.
A bench comprising Justices AR Dave, Kurian Joseph and Amitava Roy asked the Italian authority here to give an undertaking to abide by the conditions under which Latorre was allowed to leave India.
It said a fresh undertaking has to be furnished before 30 April when the earlier extension of his stay comes to an end.
Solicitor General (SG) Ranjit Kumar apprised the bench about the schedule of proceedings fixed before International Tribunal for the Law of the Sea (ITLOS) in Germany.
"End of 2018 is when the award will come," the SG told the bench, saying that India had not agreed for the conclusion of proceedings in 2019.
The court had earlier stayed all criminal proceedings, including the trial of the two marines.
While allowing the joint request of India and Italy, the apex court had said the proceedings would remain stalled till the jurisdictional issue about which country has the right to conduct trial was decided through international arbitration.
--With inputs from PTI