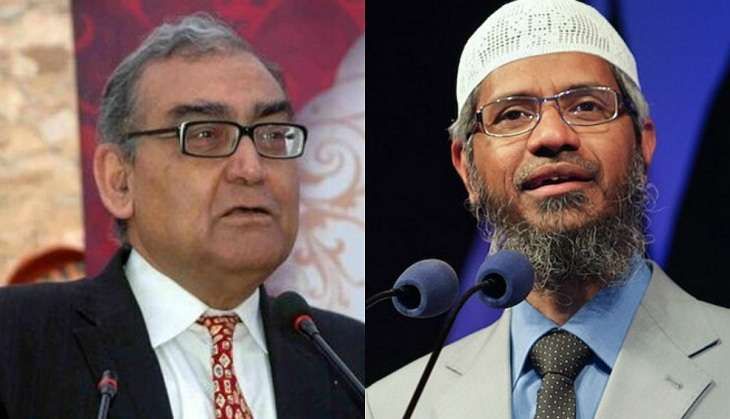 Adding to the barrage of controversies surrounding Islamic preacher Zakir Naik in the wake of the deadly attacks Bangladesh has suffered in the last week, former Supreme Court judge Markandey Katju is the newest entrant in the furore surrounding Naik's alleged influence on the attackers.
Kajtu took to Twitter, churning out a series of vitriolic tweets against Naik, making his disdain for the Islamic preacher extremely apparent. "Zakir Naik is an unscientific idiot posing to be a scholar, but the tragedy is that millions of fools among the Muslims believe that," he said.
Taking it a notch higher, Katju then openly challenged Naik to a debate, one on religion vs scientific thought. This is how it went down:
I sent this message to Zakir Naik by twitter just now. In case he does not see it, will someone convey it to him?
Zakir Naik, I challenge u

— Markandey Katju (@mkatju) July 9, 2016
to a televised 1-to-1 debate in Delhi any date&any time it suits u---Justice Katju mark_katju@yahoo.co.in

— Markandey Katju (@mkatju) July 9, 2016
Zakir Naik is returning to India on 11th July. So his supporters can certainly convey my challenge to him for a 1 on 1 televised debate,

— Markandey Katju (@mkatju) July 9, 2016
Earlier, many Muslims said if I had guts I should challenge Zakir Naik to a debate. But when I did so, they say I am doing publicity stunt.

— Markandey Katju (@mkatju) July 9, 2016
To reinforce his point that this call for a debate was not indeed a "publicity stunt", he dashed out an email to Zakir Naik and shared its contents on Twitter.
My email to Zakir Naik challenging him for a one-to-one televised debate in Delhi. Let him reply, if he has the guts pic.twitter.com/Wxruj0SB8g

— Markandey Katju (@mkatju) July 9, 2016
Zakir Naik has been under the scanner following reports that two of the seven terrorists who hacked to death 20 people at a Dhaka cafe last week were inspired by him. Maharashtra Chief Minister Devendra Fadnavis on 7 July directed the Mumbai police to look at his "objectionable" speeches, and take appropriate action against him.