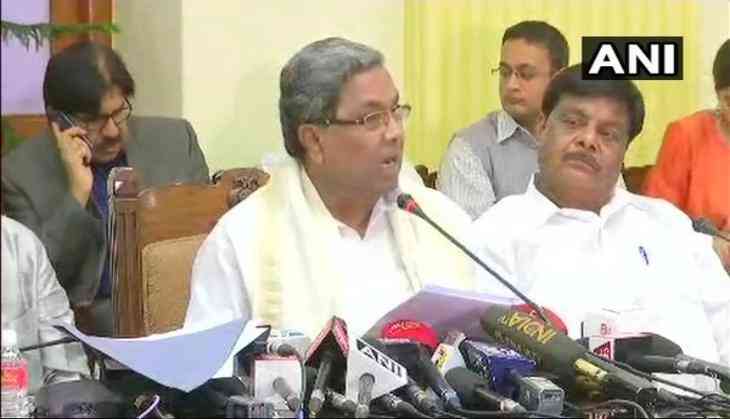 Karnataka Chief Minister Siddaramaiah on Monday came down heavily upon Prime Minister Narendra Modi while saying that he should carry 'high credibility' while levelling any allegation against the state government.
Addressing media, the Chief Minister said, "Dear Narendra Modi, being the Prime Minister of the country your words should carry high credibility. I would, therefore, request you to substantiate your allegation that "corruption and misgovernance are rampant in Karnataka" with facts."
Referring to Prime Minister's recent statement where he stated that "countdown has begun for Karnataka government", Siddaramaiah hit back and said, "countdown for the Prime Minister has begun not for his government".
Stating that the Prime Minister was facilitating corruption, Siddaramaih said that the former was not morally fit to be the Prime Minister.
He further asked the Prime Minister to fight the upcoming Karnataka Assembly Elections with dignity.
Siddaramaiah also took a jibe at the Prime Minister for holding Parvitan rally in the state and said that the rally is being funded by "Adani -Ambani."
When asked as to who is funding BJP's Parvitan rally, he said, "Which money? whose money?. May be, it is from Ambani or from Adani. May be, it is from somebody else. It is black money."
Siddaramaih also raked up the 2002 Godhra riots and recent Haryana's Kasganj violence and said, "How many died during their tenure in Godhra? Over 2000 people were killed back then. Also, is there any law and order in Haryana? Wherever the BJP is in power there is no protection for minorities."
The Chief Minister also attacked BJP chief Amit Shah and state BJP chief BS Yedduyurappa and said, "BJP president was involved in a murder case... Here (in Karnataka) also they are projecting a Chief Minister candidate (BS Yedduyurappa) who has been to jail."
Siddaramaiah also took on the Prime Minister for saying that Karnataka has not been receiving the benefits of Centre's funds.
"The Prime Minister keeps making comments that he has given so much money to the states. Where do you think this money is coming from? It is the taxes collected in the state which was sent to the Centre. It is our money which comes back," he added.
"As per 14th finance commission, in last three years we were supposed to get 95.200 crore, whereas we got 84.500 crores, so they have to give 10,000 crores more. This neither Prime Minister knows nor Amit Shah," he added.
Earlier on Sunday, while addressing a rally in Bengaluru, the Prime Minister launched a veiled attack at the Siddaramaih-led Karnataka government while saying that people of the state have not received the benefits of Centre's funds.
"Can you see the funds provided by the centre utilised properly in Karnataka? Can you see the benefits of funds provided by the centre to Karnataka?" he asked the attendees.
--ANI