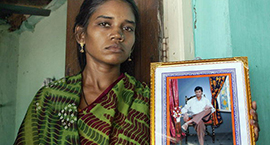 Seeing the rise in farmer suicides, the state government of Karnataka has decided to set up a committee to improve the condition of farmers in the state. The committee will recommend the steps to be taken to curb farmer suicides. The Siddaramaiah government announced the committee's details and names of its members during the assembly session.
Maximum number of farmer suicides are reported from the sugarcane farming community.
The committee will be headed by agriculture scientist M S Swaminathan.
The committee will study the problems faced by the farmers and suggest measures to curb suicide rates.
It will focus on crop planning. Mono cropping is one of the biggest issues for farmers in India. Under mono cropping, farmers focus on growing only one crop in the prospect of earning more money if it gets successful. But if the crop fails, they bear total loss.
They plan to crackdown on illegal moneylenders. Causes of suicide vary from non-remunerative prices,pressure from moneylenders, inability to repay loans taken at higher interest rates, fear of crop failure, etc.
The most affected districts like Belagavi, Bidar, Kalaburgi, Mandya, Mysuru, Shivamogga and Tumakuru will be given utmost priority. The committee will work to find the causes of the sudden spurt in farmers' suicides.
On the other hand, the panel will also try to ascertain the cause of farmer suicides in the states with better infrastructure and irrigation facilities. The problem is specific to areas, and so a detailed probe has been ordered by the state government.
Chief Minister Siddarammaiah on a radio programme 'Dil ki Baat' reiterated that "there was no grave cause or reason for them to end their precious lives. We have taken measures to tackle your problems and are doing our best to ensure remunerative prices for your crops. We are crediting to your bank accounts dues from sugar mills for crushing your cane".
About 70 farmers have committed suicide in the last four weeks. The State Agriculture Minister Krishna Byre Gowda said that "it is alarming". What is puzzling is that cases of farmer suicides had actually dropped over the last two years and have now suddenly begun to increase from mid-June onwards".