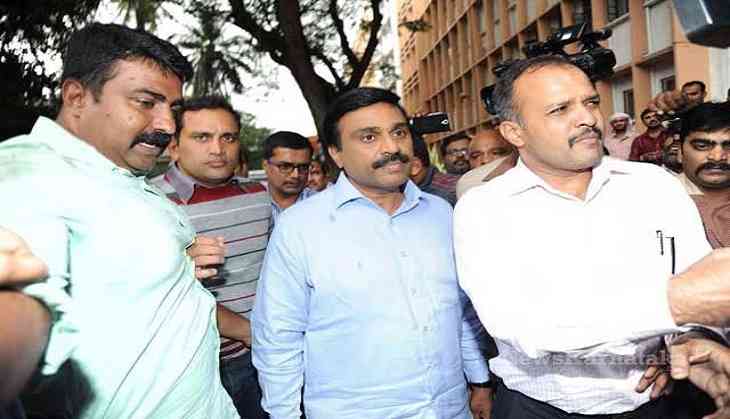 The grand old party on Friday released an audio clip of a purported conversation between its newly elected MLA from Raichur Rural constituency, Basanagouda Daddal, and former BJP minister and Bellary baron G Janardhan Reddy. In the audio clip, BJP offered the Congress MLAs a ministry and 'wealth' for defecting to BJP.
The Congress released the audio clip on Friday evening, a day before BJP's floor test, a day that will decide the fate of Karnataka's Chief Minister. Earlier in the day, former Karnataka Chief Minister Siddaramaiah told reporters that the party was in possession of recordings of conversations in which BJP leaders like the Reddys and B Sreeramulu sought to entice Congress MLAs.
Caller: Hello.
Receiver: Hello.
Caller: Basanagouda, are you free? Sir wants to talk to you. Janardhana Reddy Sir.
Receiver: OK, OK, give it to him.
Voice#3 (purported to be of Reddy): Basanagouda?
Receiver: Tell me, Sir. Namaskara!
Voice#3: Are you free?
Receiver: Yes, I am free.
Voice#3: Nothing. Don't think about all the things that happened in the past. Forget all the bad things that have happened. I am telling you my good time has begun. Now the national president himself will sit down and speak to you. When you speak to him, one-to-one, you can tell him what position you want and what you want and then decide what to do.
Receiver: No sir when I was in a bad situation they came to my help and brought me to this position now
Dear Congressis,

Who is the mimicry artist you hired to perform Janardhan Reddy's voice? He has done a pretty good job.

Kindly share his coordinates. We would want to know if he can do a voiceover of Siddu & DKS as well. May be even we can release an audio tape!

Thanks :)

— BJP Karnataka (@BJP4Karnataka) May 18, 2018
Voice#3: I will tell you one thing. When we created the BSR party, it was a very bad time and there was a lot of opposition. There is no doubting that you have lost a lot by believing in us. But I am telling you, you will grow100 times more. Shivanagouda Nayak [BJP MLA from Devadurga in Raichur] has been successful because he listened to me and came and became a minister at that time [an apparent reference to 2008]. Today he is strong and able to look after himself and can be an MLA until he dies. Is it not? It all happened because of me. Raju Gowda [a.ka. Narasimha Nayak, BJP MLA from Surpur] also benefited because of me. It was your bad luck that in my bad times, you also had a bad time. Today, there is no use with Shivanagouda winning. Today you will be a minister. Do you understand? What I am saying is that I will make you sit one-on-one with the big man and speak to them myself. The administration that they are providing in the country, you will benefit. You will make 100 times the wealth you currently have.
Receiver: No sir. Sorry sir. They helped me when I was in a real bad spot and they have given me a ticket to contest elections and have helped me, Basanagouda Nayak and others. In such a situation I cannot betray them. I respect you and regard you well.
"I'll arrange a meeting with the National President. You'll become a minister. You'll make 100 times the wealth you made so far"
BJP's Janardhana Reddy's offer to Congress MLA exposes the depths to which the BJP can sink for power. "Na khaunga, na khane dunga", @narendramodi?! pic.twitter.com/Ev3O8SBOEE

— Congress (@INCIndia) May 18, 2018
Also read: Karnataka Floor Test LIVE: Congress' missing MLAs found; BS Yeddyurappa might resign if numbers fall short, claim reports