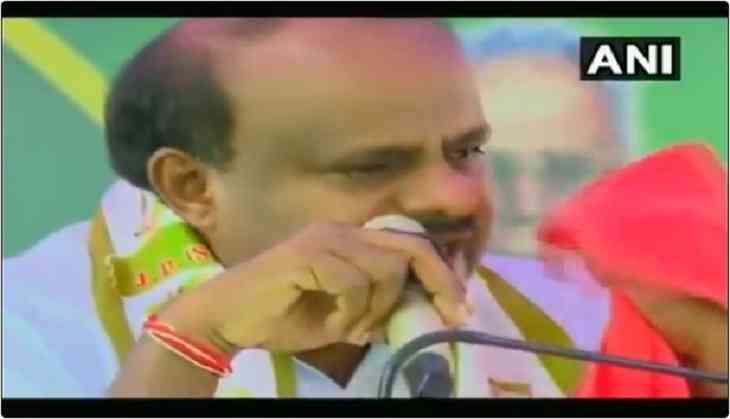 Karnataka CM HD Kumaraswamy (ANI)
Karnataka Chief Minister HD Kumaraswamy broke down into tears during the event organized by his party Janata Dal (Secular) on Saturday (14th July). He said during the event that he was not happy as a state CM and drank poison like Lord Shiva. He also admitted that he is not happy with this new coalition form of government.
Earlier, on 12th May, Congress and JD(S) had fought against each other to win the seat but later, they had joined the hands to form the government in the state and proved their majority against BJP to become the ruling party in Karnataka after hue and cry.
The pain of Kumaraswamy was reflecting that there is some tension in the alliance, therefore, he also broke down at a meeting of party cadres in Bengaluru. He also added that it is not the time for celebration.
He addressed to the audience that 'you all are happy as your elder brother has become the CM but I am not happy.
He also added that 'I am swallowing the pain like Vishakantha (Lord Shiva who drank poison to save the world). However, crowds supported him and shouted that 'we are with you.'
However, BJP didn't think Kumaraswamy is in real pain and dismissed his emotional comments. BJP titled Kumaraswamy 'a legendary actor' and also accused that he is fooling the 'common man.'
BJP took to Twitter, shared a Kumaraswamy 'broke down', video and also captioned, '& the best acting award goes to..
Our country has produced talented actors. Actors who have mesmerised the audience with their brilliant performance, here we have another legendary actor Mr Kumaraswamy, an actor who has constantly fooled common man with his amazing acting skills.'
#WATCH: Karnataka CM HD Kumaraswamy breaks down at an event in Bengaluru; says 'You are standing with bouquets to wish me, as one of your brother became CM & you all are happy, but I'm not. I know the pain of coalition govt. I became Vishkanth&swallowed pain of this govt' (14.07) pic.twitter.com/cQ8f90KkFT

— ANI (@ANI) July 15, 2018
Whereas Congress joined JD(S) and supported Karnataka CM. 'How can he say that... He must be definitely happy. A chief minister has to be happy always. If he is happy, we will all be happy,' Deputy Chief Minister and Congress leader G Parameshwara told reporters in Bengaluru.
Watch Video:
Also read: Video: 'I am not happy being CM,' tearful HD Kumaraswamy breaks down on Congress-JD(S) coalition in Karnataka; says I'm like Shiva who drank poison